In today's fast-paced business world, seamless integration of applications and systems is crucial for maintaining efficiency and competitiveness. That's where Celigo comes in.
Celigo is an Integration Platform as a Service (iPaaS). With iPaaS, businesses can bring together different cloud-based applications, such as customer management, sales, and employee management systems. For example, iPaaS helps businesses integrate their Adobe Commerce website with NetSuite on SAP, facilitating seamless data transfer back and forth between the two platforms.
Another example of iPaaS integration connects a Salesforce CRM (Customer Relationship Management) system with QuickBooks accounting software. Businesses use iPaaS to automate the transfer of customer data, sales orders, and financial information between these cloud-based applications. This integration streamlines the process of managing customer accounts, tracking sales, and maintaining financial records. It ensures that the information remains consistent and up to date across both systems.
Celigo provides ready-made connections and templates for popular applications, so businesses don't have to start from scratch when linking their software.
Celigo is a cloud-based platform that helps businesses connect and automate their software applications and systems. It allows data to flow smoothly between different programs, making work easier and more efficient. With Celigo, businesses can set up automatic processes, transform data, map fields, and handle integration issues. They offer ready-made connections for popular applications and industry-specific solutions tailored to different sectors. Celigo aims to streamline operations, ensure data accuracy, and boost productivity. It's a renowned provider of integration and automation solutions trusted by businesses of all sizes. Thorough research is recommended for companies considering Celigo for their SaaS integration needs.
Why Consider Using Celigo?
Streamlined Processes: Celigo facilitates streamlined processes by automating tasks and workflows through seamless integration of various systems and applications, minimizing the reliance on manual data entry and other labor-intensive activities.
Improved Data Accuracy: By automating data exchange among diverse systems, Celigo can mitigate the risk of errors and enhance the precision of information.
Enhanced Visibility: Celigo offers real-time monitoring and alerts, enabling companies to gain deeper insights into their operations and proactively identify and address any issues or bottlenecks.
Increased Efficiency: The platform helps companies in saving time and resources by automating processes and minimizing the reliance on manual tasks, thus enabling them to allocate more effort towards value-added activities.
Customization: Celigo is highly customizable, enabling it to be tailor-made to meet the unique needs and requirements of any company, resulting in a bespoke integration solution.
Security: It provides a range of robust security features, such as encryption, authentication, and access controls, to safeguard data.
Celigo Integration Solutions
Celigo's original single connector has expanded into a wide array of integration options that can be scaled up or down on a freemium basis. It offers two main types of solutions: a Smart Connector, which enables the integration of specific applications, and an iPaaS platform that provides comprehensive integration capabilities across multiple systems.
Celigo Smart Connectors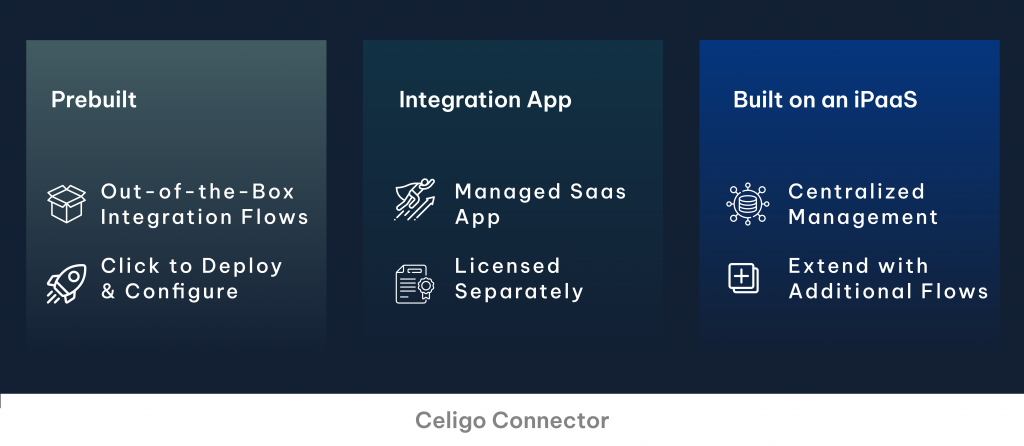 Celigo's journey began with a single pre-built solution that connected two SaaS applications. For businesses seeking to integrate popular SaaS applications, Celigo's Smarter Connector can be a reliable investment. With user-friendly smart connectors, many use cases are already resolved, and setup is simplified through a series of wizards, allowing for a robust integration to be set up and tested within days, rather than weeks or months.
Choosing a Celigo smart connector also provides access to a suite of management tools, ensuring smooth operation and simplifying future edits. Scalability is made easier on the Celigo platform, as additional flows can be added with just a few clicks.
Celigo has gradually evolved, offering over 20 out-of-the-box integration applications, catering to a wider range of integration needs.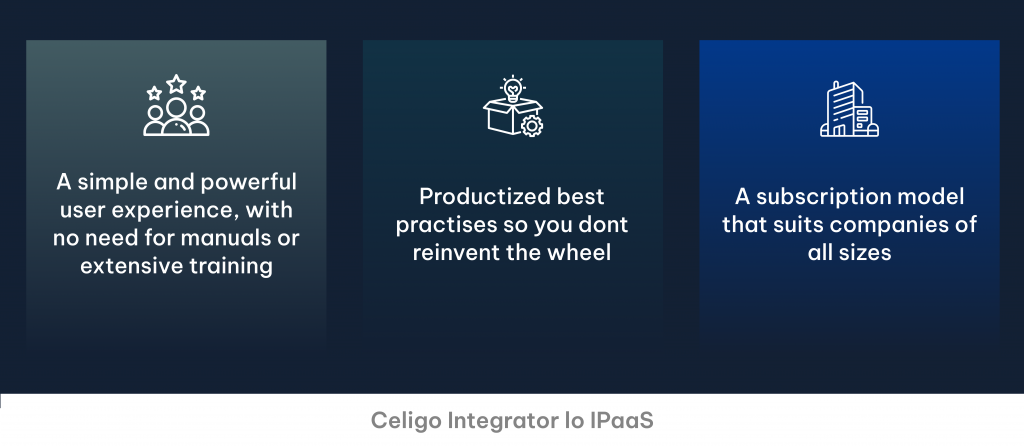 In 2016, Celigo introduced Integrator IO, an IPaaS (Integration Platform as a Service) designed for connecting applications that do not have pre-built smart connectors. It offers users the benefits of management, security, and best-practices framework provided by their smart connectors. In fact, all Celigo's smart connectors are now built on top of their iPaaS, so users do not have to start from scratch when integrating different applications.
Celigo Currently Offers Four Editions:
Standard: A suitable option for getting started with the Celigo platform. The Standard Edition includes 3 Endpoints, 16 flows, Essential Support, and API Management
Professional: Designed for businesses that are actively adopting digital transformation strategies. The Professional Edition offers 5 Endpoints, 100 Flows, Preferred Support Plan, API management, and a Sandbox account.
Premium: Tailor-made for businesses that have fully embraced digital transformation, the Premium Edition includes 10 Endpoints, unlimited flows, Premier Support, API management, a Sandbox, SSO support, and an external FTP site.
Enterprise: Geared towards large businesses that need to integrate multiple departments and processes, this edition comes with 20 Endpoints, unlimited flows, Premier Support, API management, a Sandbox, SSO support, and 2 external FTP sites.
Celigo IO Marketplace
One of the notable features of the Celigo IO platform is its marketplace which allows third-party developers to utilize Celigo's framework to create smart connectors, templates, and app assistants, and then make those apps available for other users to leverage.
Templates are pre-built integration flows that are designed to address common and relatively straightforward business use cases. Depending on the specific application that needs to be connected, there may be one or multiple templates available to expedite the integration project.
The marketplace serves as an effective solution for business processes or use cases that experience fluctuating popularity, as it allows for these needs to be addressed without Celigo having to handle all the ideation and development. Celigo provides the framework, and the market takes care of itself, offering flexibility and adaptability to changing requirements.
The Celigo-NetSuite Connection
Celigo's inaugural Smart Connector was developed for NetSuite, and the two have had a strong association ever since. While Celigo has expanded its focus to other areas, its special connection to NetSuite remains evident.
The above image exemplifies the outcomes of Celigo's unwavering emphasis on NetSuite and the capabilities of its Marketplace platform. With an impressive array of nearly 24 pre-built smart connectors, over 50 templates, and 70 app assistants dedicated to NetSuite, Celigo has established itself as a leading choice for integration solutions. In 2019, it was challenging to find a NetSuite integration use case that Celigo did not have a solution for. If you are seeking to integrate with NetSuite, Celigo is the most established and specialized option available.
Use Cases of Celigo
Celigo can be used across various industries and business functions to automate and streamline workflows. Some common use cases of Celigo include:
ECommerce Integration: Businesses can use Celigo to integrate their eCommerce platforms, such as Shopify or Amazon, with their ERP or CRM systems, allowing for seamless order and inventory management, customer data synchronization, and streamlined fulfillment processes.
CRM Integration: Celigo can be used to integrate CRM systems with other business applications, enabling smooth data synchronization, lead management, and sales automation, resulting in improved customer relationship management.
Finance and Accounting Integration: Celigo can integrate finance and accounting systems, such as QuickBooks or NetSuite, with other applications to automate financial processes, such as invoicing, payment processing, and financial data synchronization, reducing manual data entry and improving financial management.
HR Integration: Celigo can be used to integrate HR systems with other applications to automate processes, such as employee onboarding, benefits management, and payroll processing, resulting in streamlined HR operations and improved employee experience.
Wrap- up
In conclusion, Celigo is a powerful cloud-based integration platform that offers businesses the ability to connect and automate their applications and data in a seamless and efficient manner. With its features such as pre-built integrations, templates, visual integration designer, monitoring and management capabilities, data transformation, and error handling, Celigo empowers businesses to streamline their workflows, enhance data accuracy, increase productivity, and reduce costs. Whether it is eCommerce, CRM, finance and accounting, HR, or other business functions, it can be used across various industries and use cases to optimize functions and operations.
If you are seeking a comprehensive solution to integrate your applications and data, Celigo is a viable option to consider in 2023. It specializes in integrating with NetSuite and has robust support from the NetSuite community. For more information on integrating with Celigo, you can contact Jobin & Jismi, the certified Celigo Partner.