NetSuite is a Cloud ERP that fully automates the business processes and manages the finance, inventory, accounting, Human Resource Management (HRM), and Customer Relationship Management (CRM) of a company. This, in turn, provides key visibility into all business operations, streamlines the business, reduces IT costs, enhances financial management, and develops a user-driven innovation with the entire organization.
Jobin & Jismi is a leading NetSuite implementation partner in India, providing end-to-end implementation services and uncompromised business solutions to meet business requirements. We extend our support beyond the NetSuite implementation to NetSuite customization, optimization, integration, implementation support, and post-implementation services. We house 100+ NetSuite certified developers and consultants who are well-trained in recognizing and evaluating client requirements efficiently. We put effort into our best global talent pool in any client challenge and ensure that the most efficient professionals are handling your solutions. We are a NetSuite alliance partner from 2018.
Why should you choose us for NetSuite Implementation?
Our certified NetSuite developers offer smooth NetSuite implementation procedures without any hassles. After the implementation, our team of developers trains the users to use it efficiently. In addition to the implementation services, we offer post-implementation support and NetSuite implementation rescue service. Our team of NetSuite certified experts respond, measure and solve any crisis in a timely manner. We also handle failed NetSuite implementations and projects with our extensive experience in NetSuite. Our team of developers also offers migration of business from legacy software to NetSuite.
Our NetSuite implementation Process
• Requirement Analysis: Pre-phase of implementation, we research your business and analyze its operations and function.
• System Design and Configuration: During this phase, we plan, design, and configure the best solution that suits client requirements into NetSuite.
• Data Migration: The phase renders the process of importing data from the legacy system to NetSuite.
• Testing: Evaluating the functions tailored to the system and ensure its proper working.
• Training: Rigorous training is provided to the actual users to empower them to use the system.
• Go-live: The most critical phase of deploying functions to a production environment.
• Post Go-live support: Extending assistance after Go-live and support provided to achieve the maximum benefits.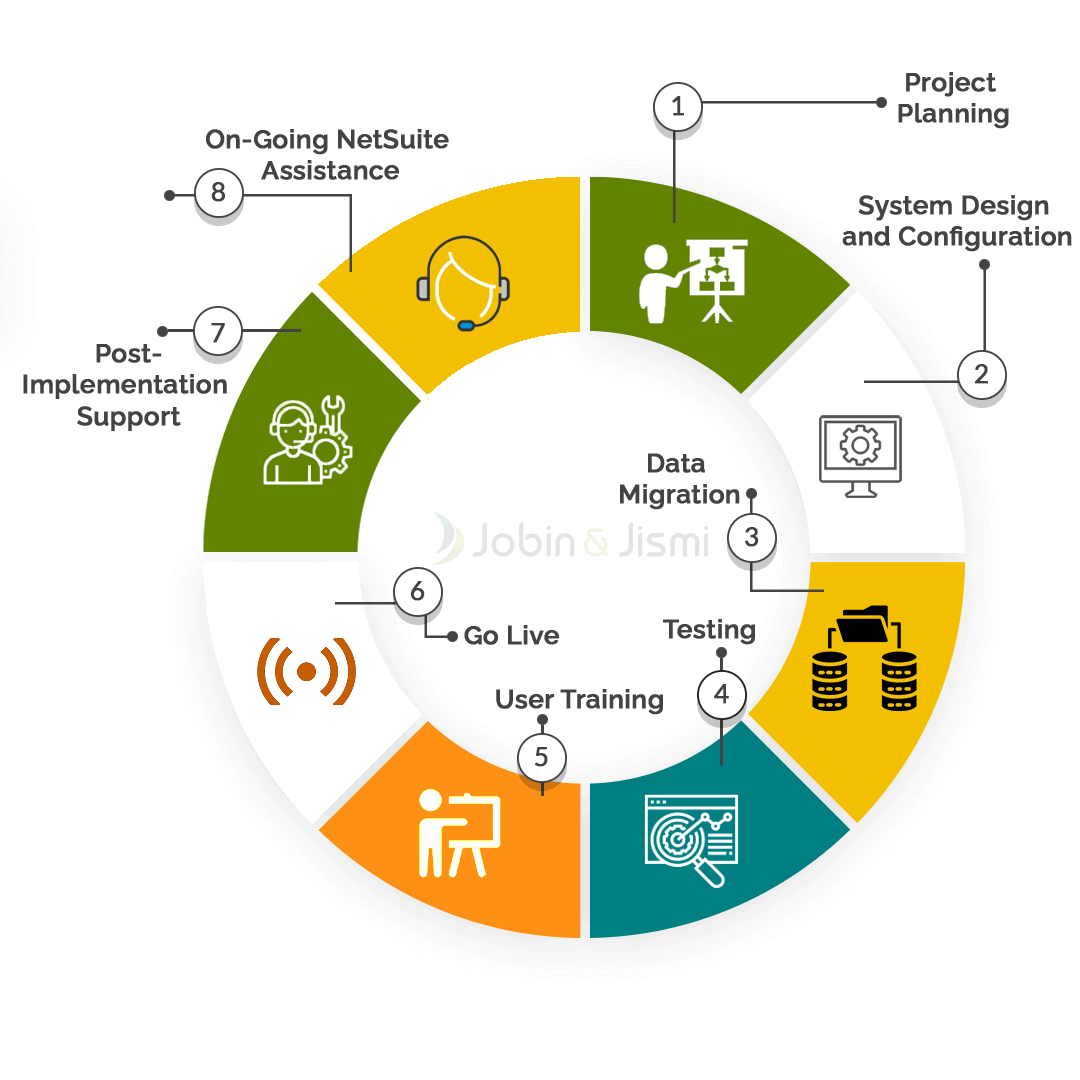 Our Unique Business Model
We help clients to achieve goals because the solutions of Jobin & Jismi simplify businesses. We implement, customize, administrate and integrate your NetSuite account and enable you to utilize its complete productivity thereby increasing the revenue. We strictly stick to previously agreed deadlines and budget parameters.
1. Fixed Price
Jobin & Jismi provide fixed-price estimates based on your requirements. We offer the best value for your money.
2. Time and Material
We ensure the engagement of qualified and experienced team members, while services are billed on an hourly basis that is pre-negotiated and mutually agreed upon.
3. Dedicated Resource
We lend our expert resources to work on your projects until it gets completed. They can be either managed by your project managers or our project managers.
What Sets Jobin & Jismi Apart?
With over 9+ years of experience in cloud technology and more than 200+ clients around the world, we have partnered with different global companies across industry sectors. Jobin & Jismi's rich business experience and cloud-based strategic service offerings have helped businesses improve performance and ROI. Through our strategic cloud evaluation based on data, companies can achieve excellent business value. Our 98% client retention status reinforces the value we place in our services. Jobin & Jismi help automate your business operations and develop a unified platform to manage the expenses and time of all your business processes more efficiently.
Want to implement NetSuite in your organization? Connect with Jobin & Jismifor any NetSuite-related services. We offer a NetSuite solution that completely fits your budget and implements it in less time.