Oracle NetSuite ERP is a cloud-based enterprise resource planning (ERP) solution that has recently gained popularity in India. This platform provides a full array of business apps that can help businesses streamline operations, boost financial visibility, and drive growth.
One of the significant benefits of Oracle NetSuite ERP is its versatility. Due to its high adaptability, companies can customize it to meet their unique business needs. This is especially crucial for Indian companies, who operate in a complicated and diversified market with its own set of challenges and rules.
The Indian Business Landscape:
The economic outlook in India is complicated, diversified, and continuously changing. With a GDP of more than $2.6 trillion, India is currently the world's sixth-largest economy. India is also one of the world's fastest-growing economies, with a GDP growth rate of over 9% in 2022. Nonetheless, the Indian business landscape poses several problems and possibilities that must be navigated for enterprises to prosper.
Challenges:
Infrastructure: Despite significant investments in recent years, India's infrastructure remains inadequate in several key areas, such as transportation, energy, and communication. This lack of infrastructure can pose significant challenges for businesses, especially those in the manufacturing and logistics sectors.
Bureaucracy: India's bureaucracy is often cited as a major obstacle for businesses. The complex regulatory environment, red tape, and corruption can make it challenging for companies to navigate and conduct business.
Skilled Workforce: Although India has a large pool of highly skilled workers, there is still a significant shortage of skilled workers in certain sectors, such as technology, healthcare, and manufacturing.
Competition: The Indian market is highly competitive, and businesses must compete with both local and global players. This competition can put pressure on companies to constantly innovate and improve to stay ahead.
Opportunities:
Large Consumer Market: India has a large and growing consumer market, with over 1.3 billion people. As incomes rise and consumer behavior changes, there is a significant opportunity for businesses to tap into this market.
Digital Transformation: India is currently experiencing a significant digital transformation, with a rapidly growing digital infrastructure and increasing internet penetration. This presents significant opportunities for businesses to leverage technology to drive growth and innovation.
Government Initiatives: The Indian government has launched several initiatives to promote investment and growth in key sectors, such as manufacturing, infrastructure, and healthcare. These initiatives can provide significant opportunities for businesses that align with these sectors.
Demographic Dividend: India has a young and growing population, with over 65% of the population below the age of 35. This demographic dividend presents a significant opportunity for businesses, especially those in sectors such as education, healthcare, and entertainment.
The Indian business landscape presents both challenges and opportunities for businesses. While navigating the complex regulatory environment, businesses must also take advantage of the growing consumer market, digital transformation, government initiatives, and demographic dividend to drive growth and success.
What is Oracle NetSuite ERP?
Oracle NetSuite ERP is a cloud-based business management software that assists businesses in managing their finances, operations, and customer connections. It offers a comprehensive set of corporate management tools that allow firms to streamline operations, cut costs, and improve decision-making.
Main Features of Oracle NetSuite ERP:
• Financial Management: NetSuite ERP includes robust financial management tools such as billing, accounts payable and receivable, general ledger, and financial reporting. It assists organizations in managing their finances by providing real-time visibility into their financial performance.
• Inventory Management: NetSuite ERP allows businesses to track inventory levels, manage purchase orders, and automate order fulfillment.
• Order Management: NetSuite ERP offers a unified platform for managing customer orders, automating order processing, and streamlining the entire order-to-cash process.
• CRM: NetSuite ERP includes a built-in CRM system that helps organizations manage their customer interactions, track sales, and improve customer satisfaction.
• Business Intelligence: NetSuite ERP includes powerful analytics tools that enable businesses to gain insights into their business performance and make data-driven decisions.
How Can Indian Businesses Leverage Oracle NetSuite ERP to Improve Their Operations
• Scalability: NetSuite ERP is a cloud-based platform that can scale to meet the changing needs of growing businesses. It can support the growth of Indian businesses and adapt to their changing requirements.
• Cost Savings: By eliminating the need for on-premises hardware and software, NetSuite ERP helps organizations reduce their IT costs. It also helps reduce manual efforts, streamlines processes, and improves productivity, thereby saving costs.
• Improved Efficiency: NetSuite ERP automates business processes by providing real-time visibility into various operations. This assists organizations in becoming more efficient and making more informed decisions.
• Compliance: NetSuite ERP has GST (Goods and Services Tax) compliance, which is required for all Indian enterprises. It also supports local regulatory requirements, making it easier for businesses to stay compliant.
Overall, Oracle NetSuite ERP can assist Indian Businesses in streamlining operations, lowering costs, and increasing profits. Its built- in compliance features, scalability, and cost-effectiveness make it an excellent choice for expanding Indian businesses.
Benefits of Oracle NetSuite ERP for Indian Business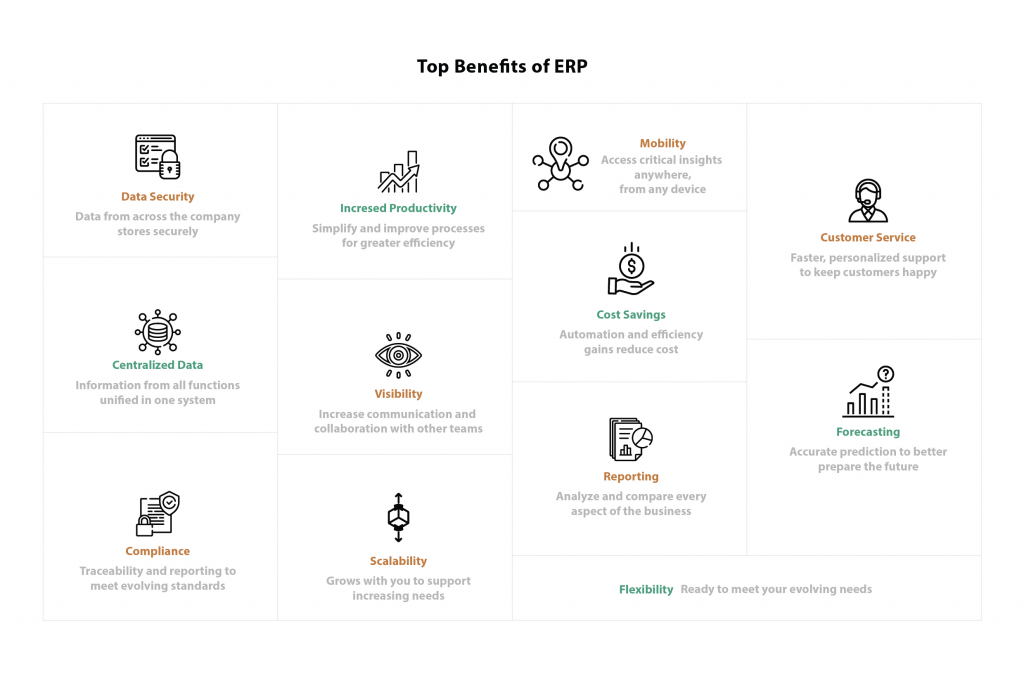 Oracle NetSuite ERP assist Indian businesses of all sizes and industries in more efficiently and effectively managing their operations. Here is a more in-depth look at how this cloud-based platform help Indian businesses:
• Increased Productivity: By automating various tasks such as financial management, accounting, inventory control, and supply chain management, Oracle NetSuite ERP enhances productivity. This lowers manual labor and saves time, potentially increasing output. The Indian business landscape presents both challenges and opportunities for businesses. While navigating the complex regulatory environment, businesses must also take advantage of it. For instance, businesses can automate inventory management to save time on laborious tasks such as stock-taking and reordering operations. Automation also helps to reduce errors and the requirement for rework.
• Increased Operational Efficiency: Indian firms can use Oracle NetSuite ERP to improve their operations and have more control over their processes. Businesses can use technology to detect bottlenecks in their processes and optimize them for efficiency. Businesses, for example, can minimize lead times and delivery costs by optimizing their supply chain management operations. This can improve client satisfaction while lowering operational costs.
• Improved Financial Management: Oracle NetSuite includes comprehensive financial management features such as general ledger, accounts payable, accounts receivable, and financial reporting. This assists Indian firms in better managing their funds, increasing accuracy, and lowering the danger of errors. For example, automating invoice processing and payment operations can decrease the chances of errors and improve payment processing times, which can be beneficial for businesses.
• Improved Customer Management: Oracle NetSuite ERP delivers a comprehensive perspective of customer data, which can assist Indian businesses in better understanding their consumers, identifying patterns, and increasing customer satisfaction. Businesses, for example, might utilize the system to track client interactions and purchase histories in order to uncover upsell possibilities and customize their services.
• Increased Company Visibility: Oracle NetSuite ERP delivers real-time visibility into numerous business areas such as sales, inventories, and financials. This enables Indian businesses to make more informed decisions and respond more rapidly to changing market conditions. The system can enable businesses to check their inventory levels in real-time, helping them to make informed purchasing decisions and avoid stock shortages.
Finally, Oracle NetSuite ERP provides Indian enterprises with a comprehensive, cloud-based solution for managing operations. Businesses can use its sophisticated automation capabilities to boost productivity and cut expenses while boosting customer management and financial management operations. Furthermore, the system's real-time insight enables firms to make informed decisions and respond rapidly to changing market conditions. Overall, Oracle NetSuite ERP is an effective tool for assisting Indian firms in being more competitive, nimble, and lucrative.
Oracle NetSuite ERP: Catering to Indian Businesses' Unique Needs
India is a diversified country with complex tax laws, various languages and currencies, and a wide range of company operations. Oracle NetSuite ERP is designed to meet these particular requirements while also providing organizations with the tools they need to succeed.
One of Oracle NetSuite ERP's primary advantages is its ability to manage complex tax requirements. The solution can deal with India's numerous tax regimes, including GST, which replaced multiple indirect taxes such as VAT and excise duty. Indian enterprises may easily customize their tax settings in Oracle NetSuite ERP to ensure compliance with local tax legislation. The technology also allows you to create GST-compliant invoices and automate tax computations to simplify the entire tax procedure.
Oracle NetSuite ERP can support many languages and currencies in addition to tax compliance. The fact that India has 22 official languages and various currencies, making it difficult to do business in different fields. Oracle NetSuite ERP has multilanguage features, enabling businesses to work in many languages and move between them with ease. It also allows multi-currency transactions, allowing organizations to transact in many currencies, convert currencies, and manage exchange rates.
Over time, Oracle NetSuite ERP has the potential to cater to various business operations of Indian companies, including but not limited to manufacturing, distribution, and e-commerce industries. It also gives organizations real-time visibility into their operations, allowing them to make informed decisions and manage their operations for optimal efficiency.
Integration Capabilities: How Oracle NetSuite ERP Can Integrate with Other Software Solutions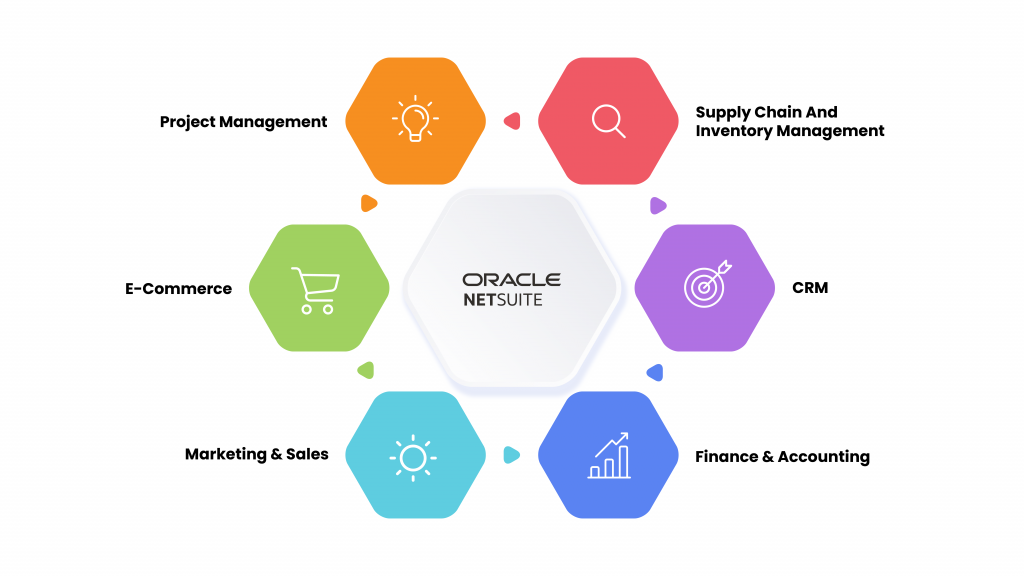 To create a seamless and effective workflow, Oracle NetSuite ERP is designed to interact with other software solutions typically used by Indian businesses, such as CRM software, e-commerce platforms, and payment gateways.
Here are a few examples of how Oracle NetSuite ERP can be integrated with other software solutions typically used by Indian businesses:
• CRM Software: CRM software like Salesforce, Microsoft Dynamics CRM, and HubSpot are integrated into Oracle NetSuite ERP. With this connectivity, organizations can manage client information, sales data, and marketing initiatives all in one place.
• E-Commerce Platforms: Oracle NetSuite ERP is compatible with e-commerce platforms such as Shopify, Magento, and WooCommerce. This interface allows businesses to handle orders, inventory, and customer data all in one place. It enables companies to track revenue, customer behavior, and other indicators in order to improve their e-commerce strategy.
• Payment Gateways: Oracle NetSuite ERP interacts with common payment processors such as PayPal, Stripe, and Razorpay (It facilitates the processing of online payments for both online and offline businesses.) This interface allows organizations to manage payments and refunds in one place, as well as track transaction statistics.
• Logistics and Shipping Software: Shipstation, EasyPost, and ShipBob are examples of logistics and shipping software that Oracle NetSuite ERP interacts with. Businesses can use this link to manage shipping and fulfillment processes, track inventory, and update order status in real time.
• Human Resource Management Software: Oracle NetSuite ERP interacts with human resource management software such as ADP, Paycom, and BambooHR. This interface allows organizations to handle employee data, payroll, and benefits all in one place.
Overall, the integration features of Oracle NetSuite ERP help businesses to improve their process, decrease human data entry, and increase operational efficiency.
The Availability of Local Support and Services for Oracle NetSuite ERP in India
There are various local support and service providers in India who provide Oracle NetSuite ERP implementation, training, and ongoing support. Jobin & Jismi, a major Oracle NetSuite Solution Provider, is one such provider adheres to organized implementation procedures based on industry best practices to ensure the ERP system's successful and timely implementation.
We offer a team of professional consultants who specialize in Oracle NetSuite ERP implementation, customization, and support. We provide full-service project management, business process reengineering, data migration, integration, and user training.
Jobin & Jismi's implementation technique follows a disciplined approach based on industry best practices, ensuring that the ERP system is suited to each client's individual needs. They also offer continuous support services such as technical assistance, helpdesk assistance, and application maintenance.
Overall, Indian business can benefit from a diverse choice of local Oracle NetSuite ERP support and service providers. These partners may assist firms in achieving a seamless and successful ERP system implementation, as well as providing continuous support and training to ensure that the system fits their changing business demands.
Future Outlook for Oracle NetSuite ERP in India
As India's corporate sector continues to grow, the outlook for NetSuite ERP seems positive.
One of the most important ways that NetSuite ERP can further assist Indian businesses is through its localization capabilities. NetSuite ERP already supports Indian taxation, accounting, and compliance standards, and it may continue to enhance its localization capabilities to meet Indian enterprises' specific needs. For example, if the Indian government introduces new regulations and policies, NetSuite ERP may update its software to guarantee that firms remain in compliance with the most recent needs.
Second, NetSuite ERP's integration capabilities may be expanded to accommodate the varied range of software utilized by Indian enterprises. With the proliferation of new software solutions, it is vital that NetSuite ERP integrates easily with these solutions. Businesses are able to streamline their operations and obtain greater visibility into their processes as a result of this.
Thirdly, NetSuite ERP can continue to develop its mobile capabilities to meet the growing need for mobile-first organizations. Businesses in India are increasingly reliant on mobile devices to access business applications as the use of smartphones and tablets grows.
NetSuite ERP continues to improve its mobile app to give its clients a more intuitive and user-friendly experience.
Finally, NetSuite ERP can continue to invest in AI and machine learning capabilities to assist organizations in making better decisions. Businesses may obtain deeper insights into their operations, spot trends and patterns, and make more educated decisions by using the potential of AI and machine learning.
Thus, NetSuite ERP can continue to serve Indian businesses as they develop and change by improving its localization, integration, mobility, and machine learning capabilities. NetSuite ERP need to adapt to suit the changing needs of its customers as the business landscape in India evolves.
Wrap- Up
Oracle NetSuite ERP is a robust solution that can effectively address the unique requirements of Indian businesses. With its support for complex tax regulations, multiple languages, currencies, and diverse business operations, Indian businesses can rely on Oracle NetSuite ERP to streamline their operations and improve their overall performance.
Oracle NetSuite ERP also assist Indian firms in better managing their finances. The platform providesoffers strong financial management features that can assist businesses in tracking spending, managing cash flow, and optimizing financial operations. This can be especially beneficial for India's small and medium-sized firms (SMEs), which frequently struggle with cash flow management and financial transparency.
Scalability is another feature of Oracle NetSuite ERP. The platform can assist growth and expansion for organizations of all sizes, from startups to huge corporations. This is especially crucial for Indian companies, which are likely to grow rapidly in the future years.
Oracle NetSuite is a game changer for Indian enterprises in general. The platform helps businesses stay competitive and succeed in a fast-changing market by providing powerful tools for financial management, operational efficiency, and growth. To obtain more information about NetSuite, reach out to Jobin & Jismi-a leading Oracle NetSuite Solution Provider that adheres to industry best practices and employs a methodical implementation process to guarantee the successful and timely implementation of the ERP system.