NetSuite Integration Services
A business environment integrated with dynamic business solutions can easily capture great heights. Third-party integrations create a fertile environment for business progress.
Integrating ERP systems with your software applications and cloud-based solutions provides promising solutions in the business process. We deliver a fully efficient integrated cloud system with third-party product integration services within a reasonable time and cost structure by utilizing NetSuite developer tools like SuiteTalk web services.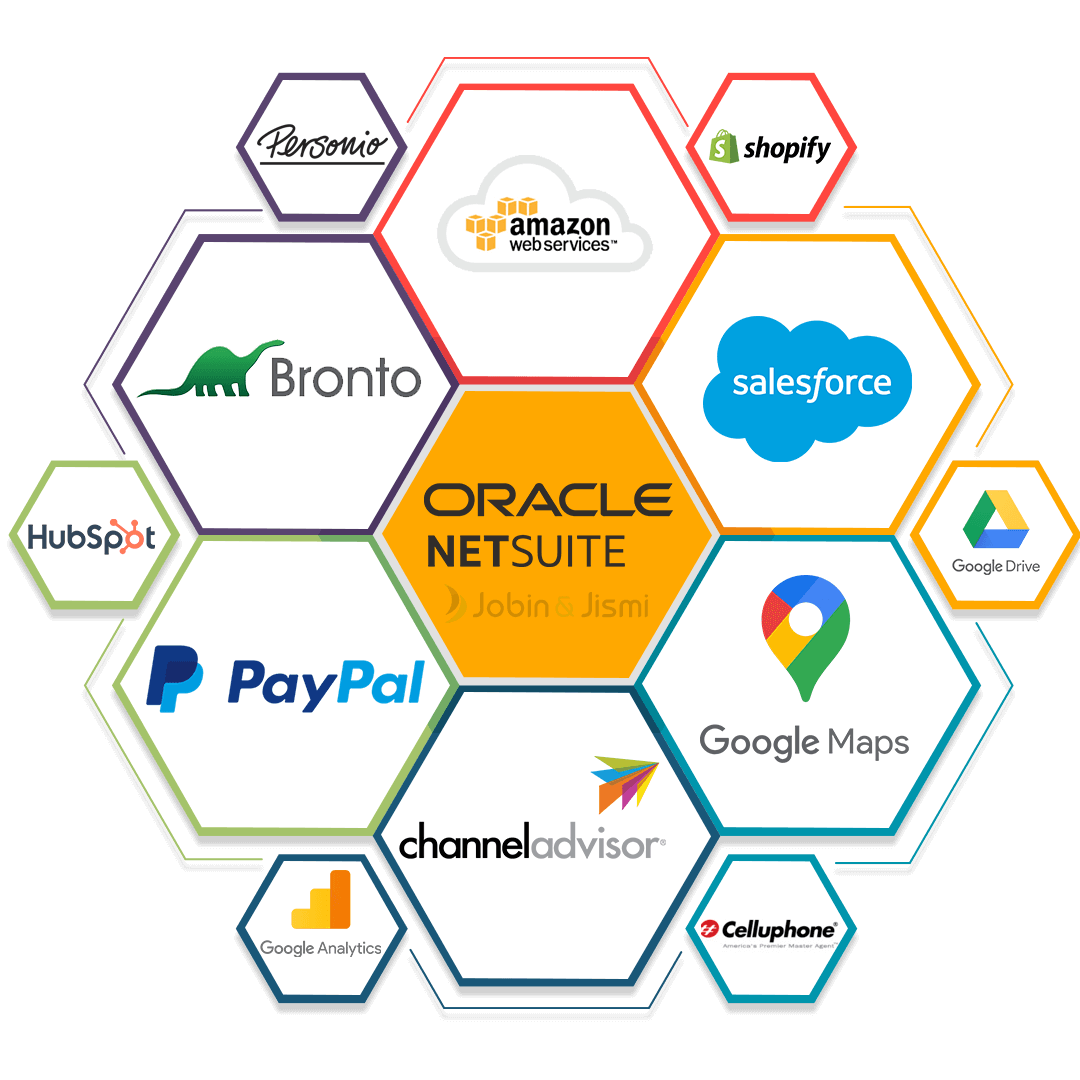 Why Integrate NetSuite?
Integrating your business with dynamic solutions like NetSuite cloud ERP enhances its efficiency to run the extra mile than your competitors. NetSuite is a single, integrated platform for ERP, CRM, and eCommerce at affordable prices along with a comprehensive support package, and with accelerated implementation.

Integrating NetSuite automates the vital functions across all departments and enhances productivity. Businesses can track sales, marketing, finance, purchase, services, inventory, order fulfillment, employee management, and all other operations effortlessly.

NetSuite offers customizable dashboards providing real-time visibility into key business decisions and performance metrics as well as intelligent support.

NetSuite ERP assists your business with advanced solutions to handle crucial administrative operations and financial management in the cloud.

NetSuite OneWorld is the perfect solution for multinational organizations to coordinate multi-subsidiary operations. It ensures real-time access from the lower level to the higher levels of the business.

Adapting NetSuite can reduce the expenditure of time, IT maintenance, and upgrades.
We Are Your Trusted Oracle NetSuite Integration Partner
Jobin & Jismi is a reliable integration partner with nearly a decade of experience and with many successful NetSuite implementations across the globe. Our efficient services have helped different organizations to achieve businesses driven operational efficiency and improve ROI.
We are adroit in building batch integration or real-time links among various applications that manage your entire organization. Technical droids of Jobin & Jismi possess in-depth knowledge of all the business-critical systems and in providing smooth integration solutions for complex business systems with minimum IT expenditure.
Our NetSuite Consultation services assist you with effective planning, designing, and system development.
We have a strong professional background of successful third-party product integration with Netsuite, including SalesForce, Shopify, Magento, Woocomerce, Bronto, AWS, and many more. ERP integration with your software applications and cloud-based solutions ensures promising solutions. Our experts will assist you in integrating on-premise and cloud-based applications effectively by utilizing NetSuite developer tools like SuiteTalk web services.
Our clients have the complete freedom and flexibility to select the integration frameworks tailored to their requirements. We offer rapid, advanced integration solutions for our clients to incorporate them with software/cloud-based applications, files, databases, and social sources with extreme efficiency. Our vast Integration experience and core knowledge of new agile trends make us capable of recognizing your integration needs thoroughly.
Major NetSuite Integrations
These integrations help to synchronize data between two different platforms. And they will help auto-updating of data within these environments.