NetSuite hosted its annual customer event, SuiteWorld 2023, in Las Vegas, USA. According to preliminary information, SuiteWorld 2023's central theme centers on doing more with less. This year, the primary emphasis is on achieving substantial efficiency improvements.
Celebrating its 25th anniversary, NetSuite's founder and Executive Vice President of Oracle NetSuite, Evan Goldberg, gave the keynote address. In his speech, he made multiple announcements.
NetSuite is incorporating generative AI capabilities into its solutions. Nevertheless, it is also giving consideration to conventional AI features, recognizing that generative AI is most potent when combined with other AI algorithms.
Additionally, NetSuite includes many announcements in field service management and enterprise performance management (EPM) solutions. Notably, there are new and significant features designed for finance and customer experience experts, with a strong emphasis on enhancing business processes.
Suite Up
Besides doing more with less, Goldberg affirms that SuiteWorld 2023 embodies the concept of "Suite Up". Specifically, he contends that customers can achieve enhanced outcomes through the utilization of the diverse NetSuite solutions. As an example, he highlights how NetSuite customers have experienced a substantial increase in their sales—up to fourfold—due to the improved operational efficiency of NetSuite processes.
He also shines the light on the challenges faced by organizations that manage numerous disconnected systems, resulting in issues, particularly in areas like financial management. The integration of solutions is crucial, but NetSuite also identifies opportunities to introduce additional solutions to the market that reduce the dependency on external tools. The goal is to enable more processes and tasks to be completed within the NetSuite platform itself, rendering complex integrations unnecessary.
Text Enhance Represents the Initial Phase of Generative AI
AI serves as a potent catalyst, representing a groundbreaking advancement in capacity to extract invaluable insights from extensive data resources, significantly enhancing productivity. Over the past several years, NetSuite integrated AI into various facets. Today, it has introduced novel generative AI features designed to streamline and optimize customers business operations.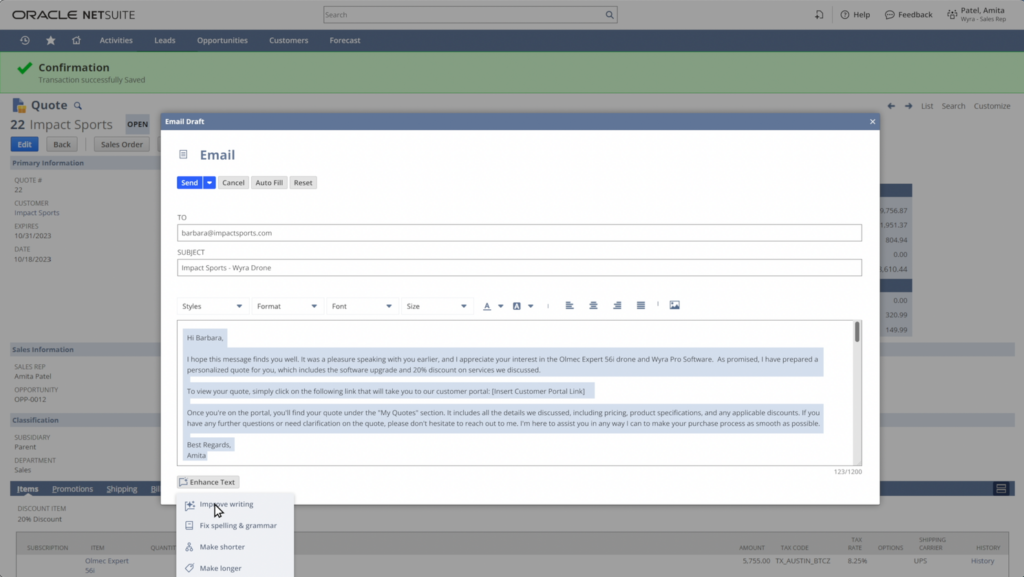 NetSuite is initiating its journey of generative AI with Text Enhance. This feature allows users to provide a brief indication of what they want to include in a text, and with a simple click of the Text Enhance button, context-aware text is generated. This approach recognizes that the content for a product page varies significantly from that of a quotation or an email to a customer.
NetSuite Enterprise Performance Management
According to Goldberg, NetSuite Enterprise Performance Management, which was originally designed for larger enterprises by Oracle, has been tailored by NetSuite to suit mid-market businesses. It can now integrate into the NetSuite platform. It encompasses various functionalities, including Planning and Budgeting, Account Reconciliation, Financial Close Management, Tax Reporting, Narrative Reporting, and Profitability and Cost Management.
NetSuite Planning and Budgeting: It empowers businesses to swiftly and effortlessly generate precise forecasts and budgets, simulate potential scenarios, and generate insightful analytical reports. It has been enhanced with cutting-edge AI features that autonomously oversee your business plans, forecasts, and discrepancies, making it more effective than ever.
NetSuite Account Reconciliation: As organizations expand, the volume of transactions naturally escalates. Ultimately, all these transactions must be correlated with corresponding expenses or sales records. Account Reconciliation facilitates the swift linking of millions of transactions to the correct sales or purchase invoices within seconds.
NetSuite Profitability and Cost Management: It simplifies the process of obtaining a comprehensive understanding of your business's profitability and costs without relying on spreadsheets. It seamlessly integrates data from the general ledger and various financial systems with your operational components like supply chain, project management, ecommerce, and more.
Narrative Reporting: It enriches numerical data with textual context, delivering text narratives alongside your financial statements. This central collaborative space enables finance teams to produce, review, and publish management and regulatory reports, freeing up valuable time for in-depth data analysis and interpretation.
Corporate Tax Reporting: This goes beyond the capabilities provided by SuiteTax to elevate your level of control in tax management.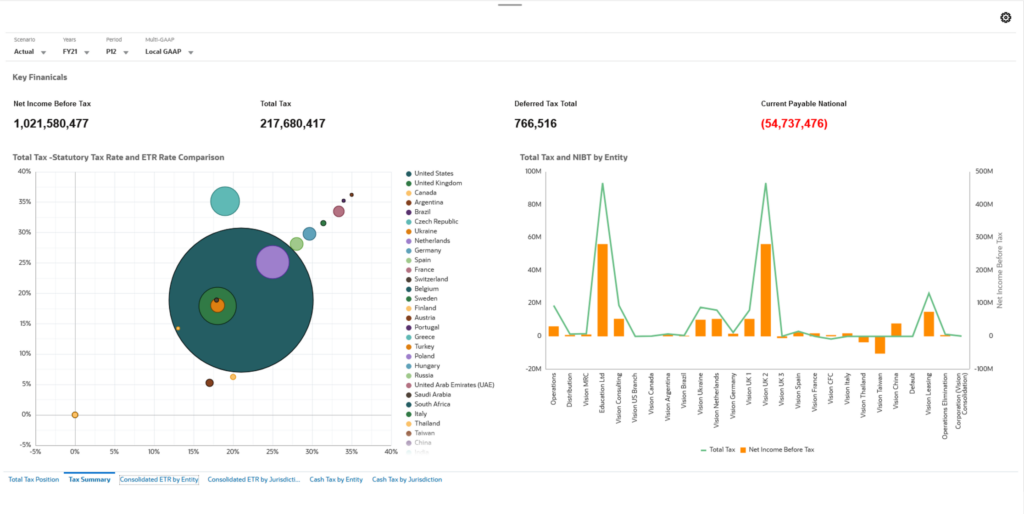 While SuiteTax automates tax provisioning calculations such as Value Added Tax (VAT)/Goods and Services Tax (GST) and ensures tax compliance, NetSuite Tax Reporting offers two additional functionalities. First, its workflow and task management feature manage all tax-related tasks within a unified dashboard, enabling global teams to efficiently track their work related to tax returns, audit management, country-by-country reporting, and more. Second, the transfer pricing function assists in the calculation and management of transaction prices between subsidiaries or business units situated in different countries.
More On Financial Control
NetSuite Bill Capture
An impactful recent inclusion in the NetSuite portfolio is NetSuite Bill Capture. Goldberg is of the opinion that this represents a cutting-edge evolution in bill capture technology. This innovative tool possesses the capability to comprehensively scan invoices, identify customer data and all line items, and easily integrate them into the financial records.
NetSuite Capital
Goldberg also briefly mentions NetSuite Capital as a valuable tool, which can help boost your organization's liquidity. By ensuring there's a healthier cash flow, it not only reduces financial stress but also enhances accounting balance. NetSuite Capital offers features that enable customers to speed up customer payments. Additionally, it can work with NetSuite Pay, a versatile solution that empowers customers to make quicker and more convenient payments through various methods.
NetSuite Benchmark 360
It is provides you with a comprehensive perspective on how your metrics compare to industry peers in both your local area and your broader orbit. This solution uses AI to study how fellow NetSuite customers with similar profiles are enhancing their benchmarks and delivers these insights directly to you. Once an area for improvement is identified, the Benchmark 360 dashboard offers tailor-made best practices and suggests SuiteApps and additional NetSuite modules that can assist you in achieving your objectives.

Furthermore, NetSuite offers practical tips to enhance your processes and achieve greater success. The platform has also developed a range of best exercises to assist you in attaining superior results.
New Flexible Licensing Model
Individuals engaged in field service management, tasked with repairs or maintenance, typically require only fundamental features, such as schedule access and task completion. Similarly, in a warehouse environment, those responsible for order picking are considered limited users within the NetSuite platform. NetSuite has responded to this need by introducing a versatile licensing model, which brings cost savings for certain customers.
This licensing option will make its debut within the warehouse management module, enabling customers to specifically pay for access to essential functionalities for their warehouse staff, without the need to purchase the core financials or other NetSuite modules.
NetSuite Analytics Warehouse
NetSuite Analytics has now been extended to encompass NetSuite Analytics Warehouse. This innovative solution gathers and consolidates data from diverse sources, empowering organizations to gain deeper insights with the assistance of AI.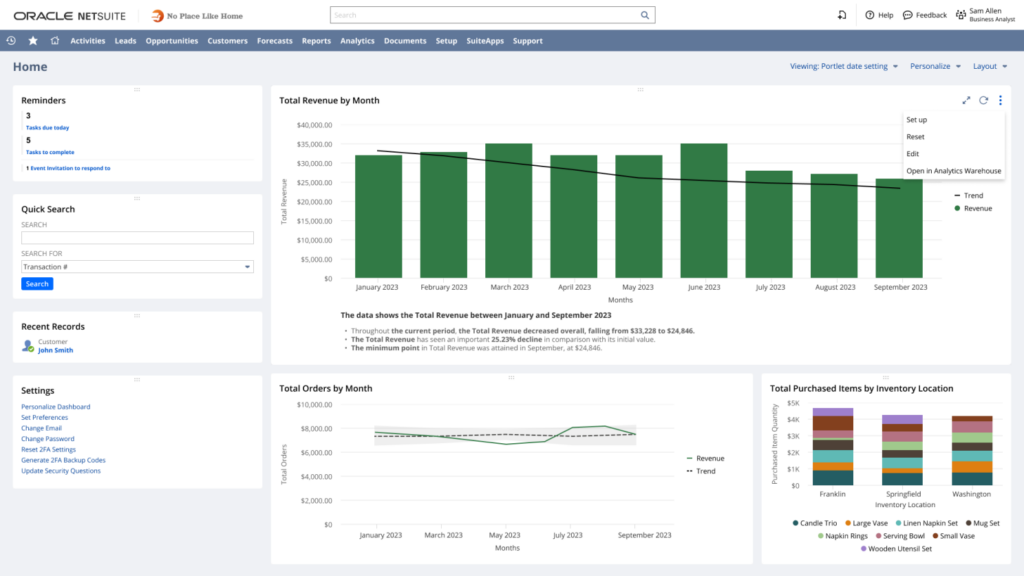 By infusing AI capabilities, data becomes more comprehensible and easier to visualize. The aim is to enable NetSuite customers to swiftly identify patterns and gain enhanced insights into their warehouse operations, thus facilitating more informed decision-making.
Conclusion
As NetSuite marks 25 innovative years, it's using this milestone as an opportunity to elevate the entire platform to higher realms. The sheer volume of announcements, introduction of new products, and enhanced features surpass those of previous years. The remarkable expansion of NetSuite as a platform and its ever-growing customer base are sure to expedite growth in the coming years.