The online retail space is highly competitive and hence the need to stand out in the crowd becomes a necessity. Chances are you have already stumbled across an eCommerce front-end called Shopify that provides a seamless customer experience. But you still feel short of a back-end system like Oracle Netsuite that can integrate with Shopify and act as a one-stop solution for all your eCommerce activities.
The Netsuite-Shopify dynamic combo automates operations like real-time inventory management, streamlining order management, and enhanced customer experience without breaking a sweat.
In this blog, we'll discuss the best practices that are followed while integrating Oracle Netsuite with Shopify.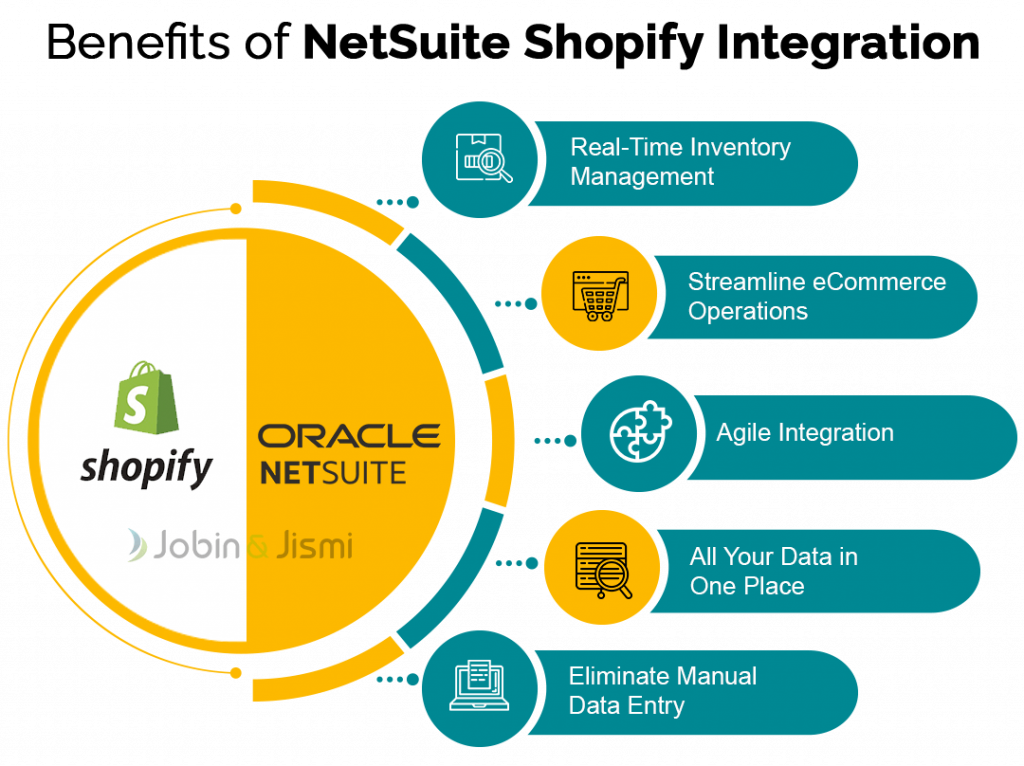 Advantages Of NetSuite Shopify Integration
Integrating NetSuite with Shopify plays a vital role in accelerating the growth of eCommerce business. Let's take a quick look at the various benefits of NetSuite Shopify Integration.
NetSuite Shopify integration ensures direct data flow between the systems. Data is automatically synced therefore the need for manually keeping data in two separate systems is eliminated along with the need for timely updates. This integration facilitates management of both the systems efficiently and evokes better system performance, easier system management, and more agile integration benefits.
One of the major benefits is the elimination of Data Entry Errors. NetSuite Shopify integration facilitates automatic syncing of data between NetSuite accounts and Shopify. This helps eliminate data inconsistencies, redundancy, and manual data entries.
NetSuite Shopify Integration
Let's go over the three approaches available while considering the NetSuite Shopify integration:
1. Point-to-Point Integration
This is one of the go-to approaches in the integration process. Point-to-point essentially means the data points are pointed at each other for seamless data synchronization, meaning there is no operational platform in-between. Therefore you have command over the type of system where you manage data. The inherent flexibility helps in customizing both sides of the integration according to your needs.
Point-to-point integration sync data like products, orders, inventory, and customers. The synchronization happens in batches or realtime. This is the ideal approach for small businesses that are operating on a limited budget and a confined set of operations.
2. Custom NetSuite Shopify integration
People always feel the need to customize and custom integration does happen between Netsuite and Shopify. The application programming interfaces (APIs) of these individual systems are connected to bridge the gap between these platforms and help write custom codes that connect these systems. The Custom approach is much superior to the point-to-point approach and can handle complex operations and growing business models.
3. Saas-Based Middleware Integration: Cloud Is the Way Forward
SaaS is getting synonymous with almost everything nowadays and it is again one of the best approaches in the Netsuite-Shopify integration. The Software as a Service model is a cloud-based platform that acts as an operational hub between Netsuite and Shopify. These integration solutions are also known as hub-spoke models.
However, because of the added functionalities, pricing is the part where customers think twice. But compared to the alternate options available the Saas-based approach is worth its salt.
Integration Checklist
Like all other system integrations operating on the mainstream, NetSuite integrations are also sensitive processes that need proper attention, expertise, and treatments in each stage of execution. Consider the following factors before proceeding with integration.
• Need for Research: If you have decided to go with the integration process, it is important to check for bottlenecks in the process. Discuss with the implementation team to find the right steps and suitable technologies to fulfil the objectives of the integration process. This adds to the factors contributing to successful integration.
• Documentation: This is one of the underrated factors in the integration process. Documentations are necessary for effective communication between the two integration teams. Therefore try to avoid duplication of documents or partly completed documents as these can turn out to be the source of unwanted complexity in the integration process.
• Data Volume: Understanding your data volumes are key especially if your business is expecting tremendous growth shortly. The integration should support such big data. And, if necessary, build a scalable solution that goes hand-in-hand with your growing business.
• Customers: Integrations are for the customer or business well being. Hence, we must ensure the process benefits and output through Strength, Weakness, Opportunities, and Threats (SWOT) analysis in each stage.
• Technical Resources: Ensure the adequate availability of resources and technologies to process the integration into reality. The expert team will guide and lead the whole process into a successful one with timely affirmations without causing any delay.
If you are looking for a trusted integration partner for your business, drop a mail to Jobin & Jismi. We are always there to assist you.