NetSuite is a unified Enterprise resource planning (ERP) software. It helps the enterprises to achieve business growth and progress by efficiently optimizing business processes. It also helps to automate the business processes and activities in a cloud platform with high-end benefits.
The business world is getting more competitive every day. Organizations are in desperate need of cutting edge technologies such as robust ERP software or an efficient cloud facility to manage the business activities. Oracle NetSuite is always ahead in foreseeing these requirements and assists the business organizations through the integration of NetSuite ERP.
History of NetSuite ERP
NetSuite is a newbie in the ERP world. It was introduced under the name of Netledger in 1998 by Evan Goldberg. At the initial days, it was started as web-hosted accounting software for catering to the following needs which include effective management of business finances, other operations, and customer relations and satisfaction.
It serves the requirements of small, medium-sized, and large businesses in a cloud environment.
Later Oracle acquired NetSuite and nurtured the growth of NetSuite from a small business suite to a Powerful ERP solution that works in various capacities to enhance the business operations.
Why NetSuite?
Choosing an ERP solution is difficult as several ERP providers are offering critical solutions for different businesses. However, all these ERP solutions may not fulfill your requirements. Hence, organizations should opt for ERP software that can be molded to their specific needs. NetSuite is one of such trusted ERP solutions. NetSuite implementation is very sophisticated, and implementation partners give extra care for its success. Then the common question that people ask is, Why should my company choose NetSuite ERP? The answer is here.
NetSuite has exceptional capabilities to scale up business processes. The significant factors that reveal the importance of NetSuite ERP in comparison with other functional ERP applications are the following.
1. NetSuite can run the entire financial management processes, such as accounting, stock, delivery chain, as well as order management, effectively in the cloud.
2. It is one of the well-received ERP software applications for businesses that are likely to increase the view of their customer relationship management.
3. NetSuite automates businesses to plan, follow, and accurately implement projects.
4. The platform allows universal business administration. It is efficient in dealing with multiple currencies, countries, subsidiaries, as well as languages inside a business.
5. The eCommerce capabilities of NetSuite ERP facilitates functions in the E-commerce store, ranging from the order administration and point of sale to selling, merchandising, stock, support, and financials.
Irrespective of these mentioned functions, NetSuite always helps to gain agility for progressive growth and well-being.
Elements of NetSuite ERP
The following constitute the promising elements of the NetSuite ERP system.
Accounting and Financial Management
The NetSuite ERP has extensive capabilities for providing practical accounting and financial management capabilities in a single cloud-based platform. There are seamless end-to-end business process flows, such as Lead to Cash, procure to pay, order to cash, and so on. Businesses can handle financial management functions from a single source of finance, sales, and customer data.
Customer Relationship Management (CRM)
Customer relationship management (CRM) helps to get engaged with more optimized CRM tools. Businesses can effectively manage relations and interactions with customers and prospects. NetSuite offers an effective Customer Relationship Management system. The Benefits of NetSuite CRM include the assistance to have improved business relationships with customers, streamlining the processes, and enhanced business profitability with NetSuite CRM tools.
Warehousing and Manufacturing
The NetSuite provides extensive functions to deal with diverse industries like manufacturing and warehousing. It works by optimizing activities on large-scale business production and the essential management of financials and industry-specific needs.
Inventory Management
Netsuite delivers robust solutions to manage inventory operations. NetSuite helps to deal with business operations finances, logistics, and inventory in a unified business platform for deriving the potential benefits.
Analytics and Reporting
NetSuite ERP uses the best tools to drive business intelligence and generate reports to analyze business performance. Businesses can boost and gain insights on sales volumes, customer retention, products and services development, profitability, better business decisions, customer satisfaction, and so on.
Capabilities of NetSuite ERP
Let's get the drive into the list of capabilities owned by NetSuite ERP.
• Efficient management of the financial process
• Enhanced Business Reporting
• Best report generation tools with real-time information
• Improved Inventory Costs
• Foster Cash Flow
• Cost Savings
• Better Data & Cloud Security
• Proper Process Standardization
• Premium Supply Chain Management
CRM
The CRM capabilities of NetSuite ERP are listed below.
• Enriched resource Organisation
• Enhanced Communication
• Improved Customer Service
• Automation of Daily Tasks
• Efficient team management
• Analytical Data and Reporting
Ecommerce
The following are some of the prominent eCommerce capabilities of NetSuite ERP.
• The highly responsive themes and optimization benefits
• Accessible source code for carrying out designs
• Options to design unlimited layout control
• Better performing and fast loading UI
• Flexible for customizations and updations
• Flexible for manual upgrades with the highest security
• Advanced features and enhancements
• Offers highest marketing features (e.g., upsell and cross-sell)
PSA (Professional Services Automation)
The professional services automation feature of NetSuite ERP possesses the following features.
• BUILT in OpenAir acquisition
• Effective management of service-based functions
• Project-oriented businesses.
Benefits of having NetSuite ERP for your business
NetSuite ERP is capable of running business operations efficiently. NetSuite offers the following benefits to businesses.
1. Single Solution for Business
NetSuite ERP acts as a single solution for business worries. It covers almost all the areas of business, from financial processes to supply chain management. Within a single platform, you can lead and to run the firm efficiently. It converges various needs in a single articulated platform and helps the businesses to gain competitive business advantages.
2. Better Decision-Making
NetSuite has efficient business intelligence tools that help businesses in decision-making processes; thereby, companies can effectively gain high-end results. These will help to achieve progressive growth and business well being. It helps in understanding revenue recognition, charts and figures, and much more influence on better decision-making processes.
3. Multinational, Multilingual, Multicurrency, Multi-Subsidiary
NetSuite can deal with businesses run in multiple languages, multiple currencies, and various subsidiaries in different countries.
4. Customizable
Another undiminishable quality of NetSuite is the high flexibility of customizing the system according to the stipulated requirements of a business entity. It can customize and integrate to a third party system efficiently and effortlessly to enhance the business.
5. Biyearly Upgrades
NetSuite updates yearly twice, which makes the system more persuasive enough to accommodate the changes happening in technology and business.
6. Data Security
NetSuite functions in the cloud, so it has high data security. Businesses can run business by standing anywhere in the world and multiple locations. Companies can operate without worrying about data loss.
7. Scalability
NetSuite ERP system which has got higher scalability. This may possess an impact on business expansion with respect to its growth and development. This may in turn create an environment for businesses to NetSuite accommodate any technological changes.
Features Of NetSuite ERP
NetSuite ERP has extensive features aligned within the system. It facilitates business process efficiency. We are here featuring some of it for you.
• Order-to-Cash
The O2C process aligned with NetSuite covers the entire order processing with the highest efficiency. It aligns the results with the point of payment from accounting log entries in books.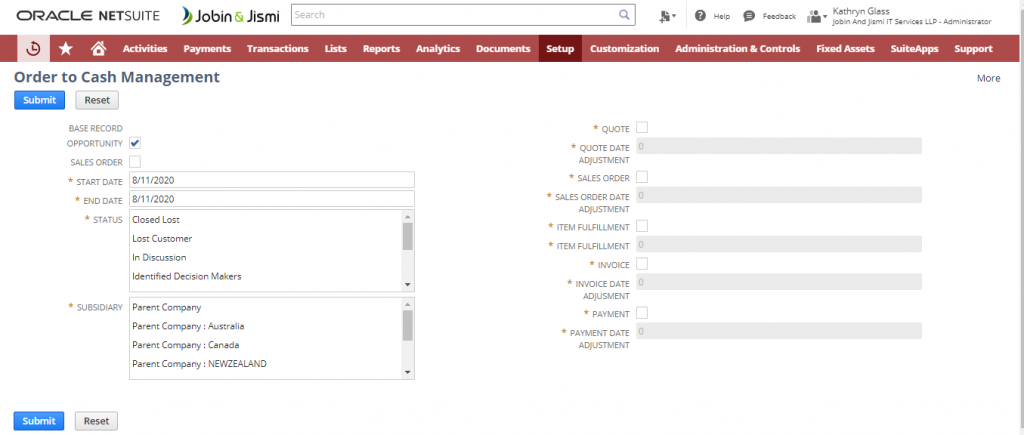 • Audit Trail Visibility
NetSuite allows the audit trail visibility, which ensures necessary information via backtrack and clear visibility towards the trail of events with respect to its initial actions, creation of a record, user activities, data accessibility, login attempts, administrator activities, or automated system activities. This facility ensures to have a better track of the system's actions and increases accountability.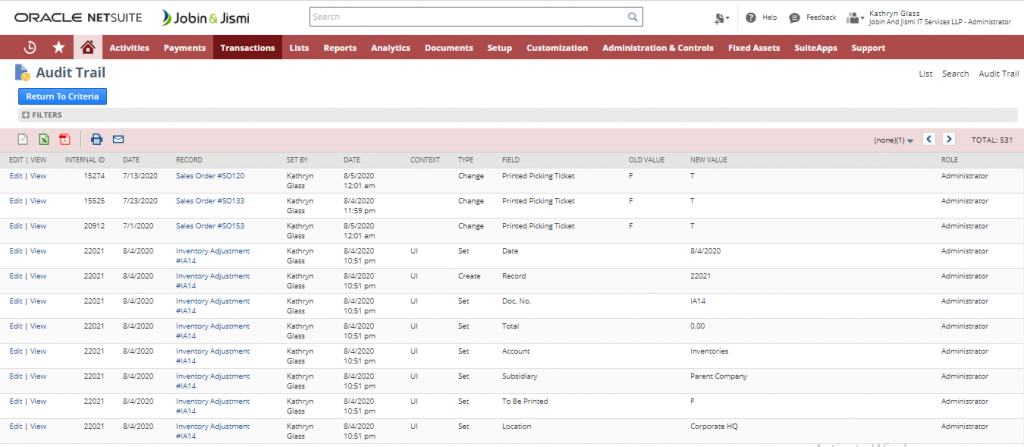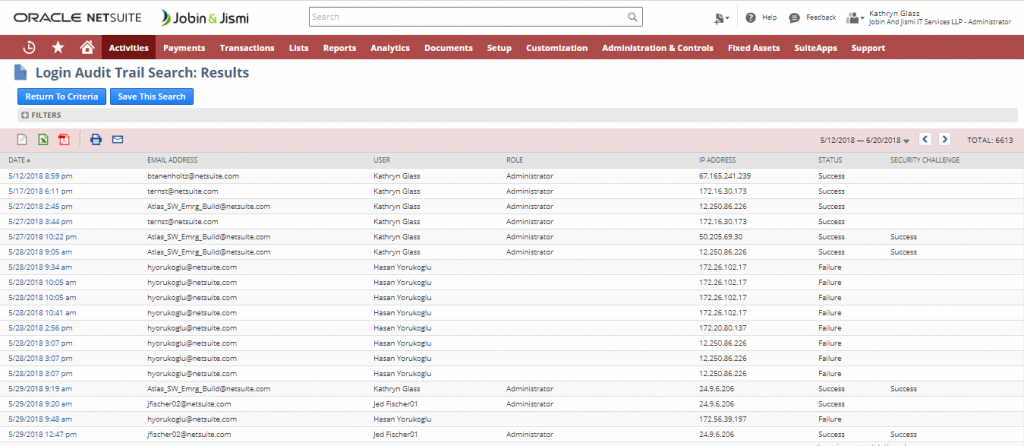 • Procure-to-Pay
The procure-to-pay feature of NetSuite ERP serves as a critical component. It helps in managing the entire business process in a cloud base with a suite of global actions to ensure efficiency and universal visibility across the procure-to-pay process.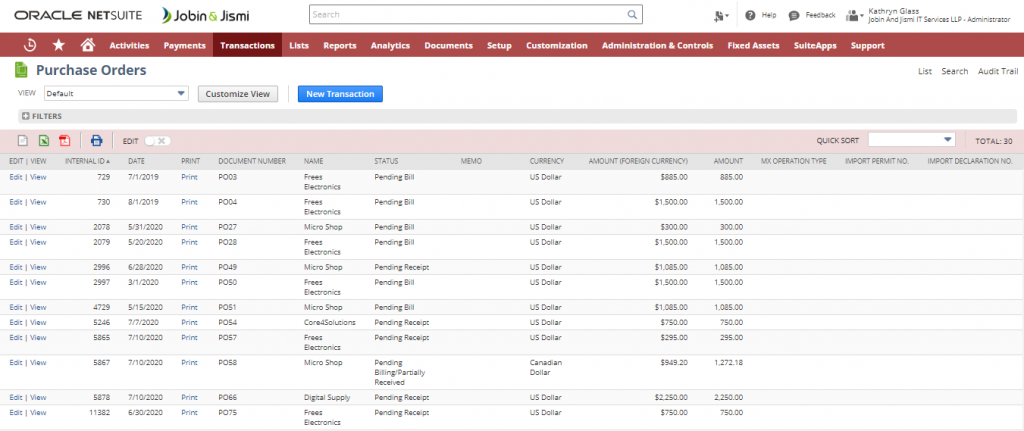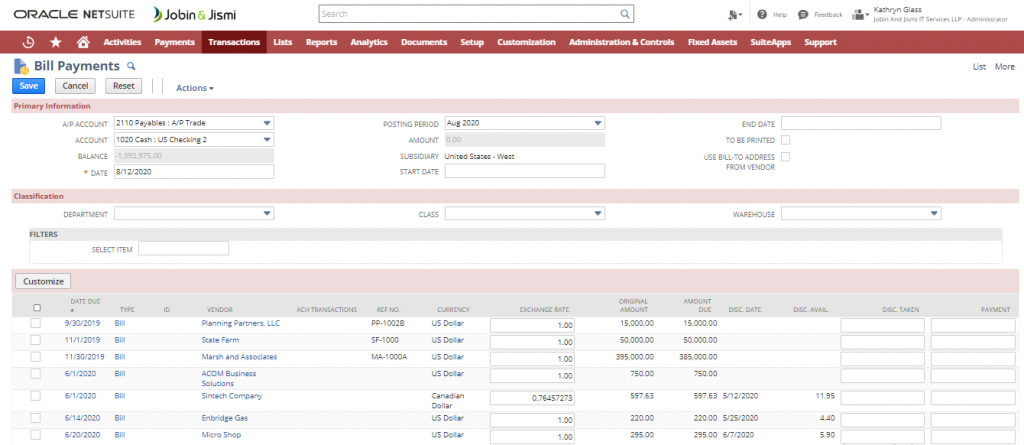 • Tax Management
NetSuite has an exceptional feature to run the actions to understand, track, calculate, and pay different types of taxes according to the sales or purchase of products and services. NetSuite tax management has a robust foundation that ensures transparency, automation, and effective control and the management of tax in a global environment.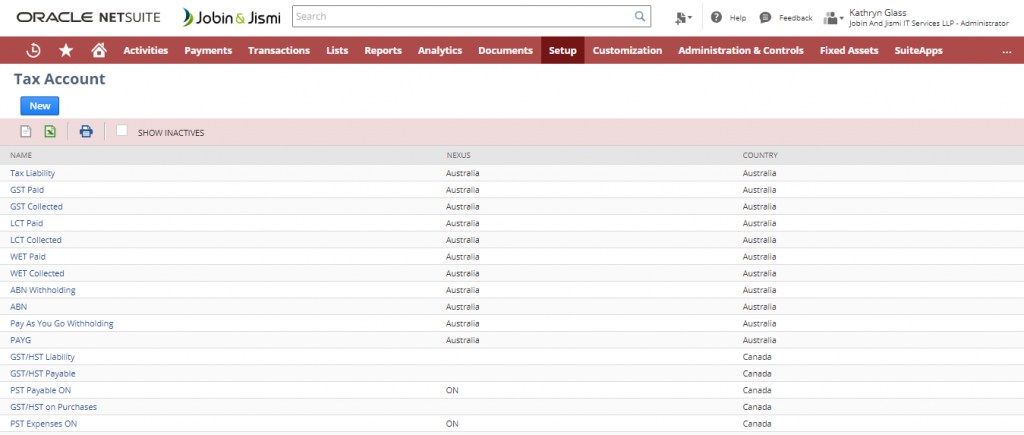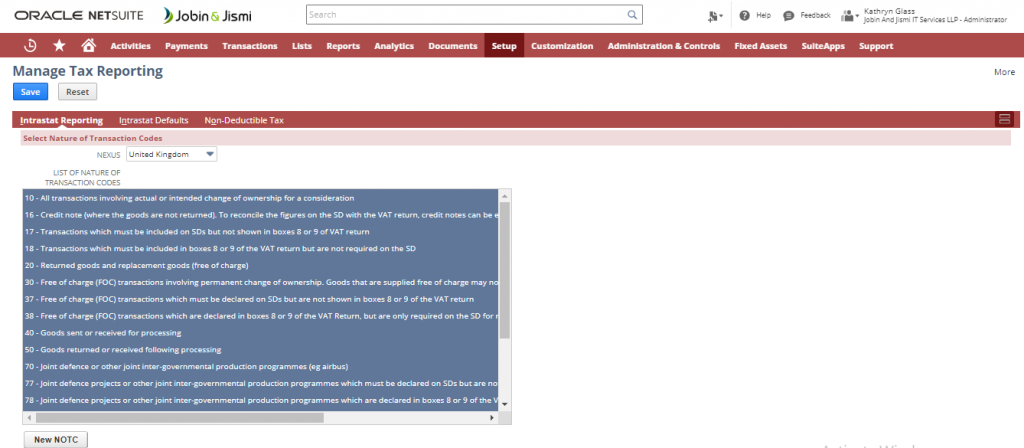 • Flexible Depreciation Management
NetSuite Fixed Assets Management feature can choose the accounting period to depreciate and allows the flexibility to annual withdrawal and depreciation of assets based on user preferences.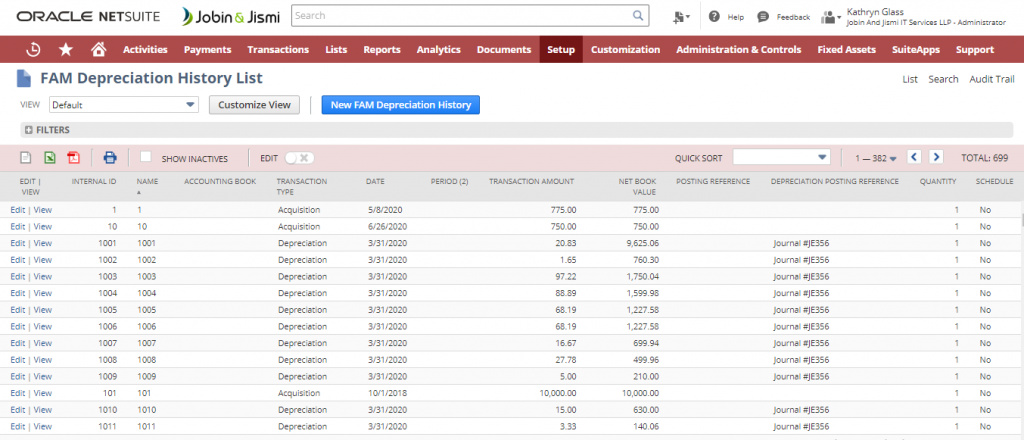 • Workflow Management
NetSuite has efficient Workflow management capabilities that can effectively align any specific business processes into the NetSuite system. With these features, businesses can automate the business process and avoid time spending on manual processes. This feature is capable of bringing more complex business processes into more simplified actions. The workflows can manage multiple stages, transitions, and operations in a more automated way and thus saving time.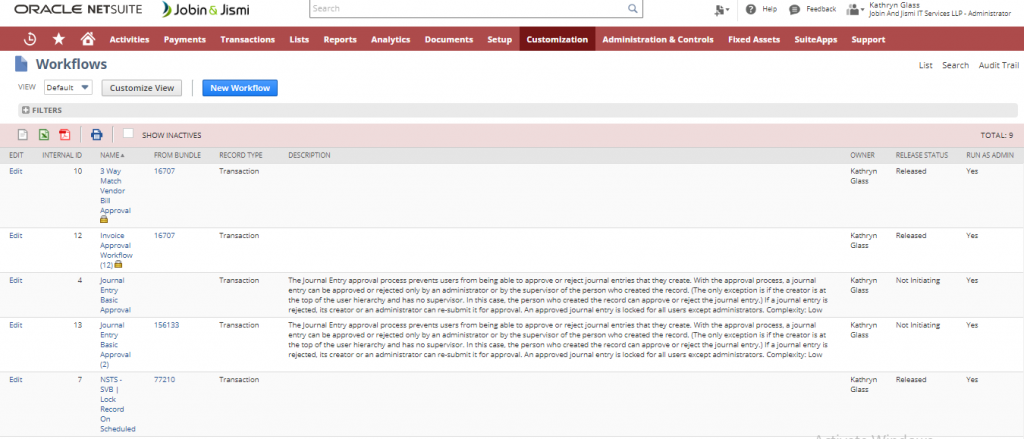 • Fixed Asset Roll forward
The NetSuite Fixed Assets Management delivers competent and automated Parent—Roll up values of sub-assets to parent and create one journal forward. So as this feature allows the revision, which only affects future depreciation calculations.
• Integrated Financial Reporting
NetSuite ERP has an efficient Financial Report Builder tool; it is convenient and easy-to-use. The tool helps to create financial statements for reporting requirements. It also ensures grouping of economic data, classifications additional data in the report such as budget details.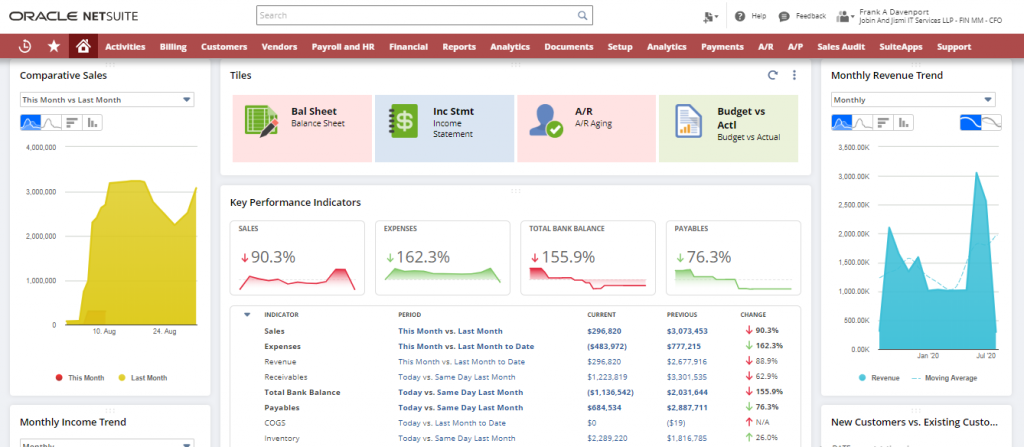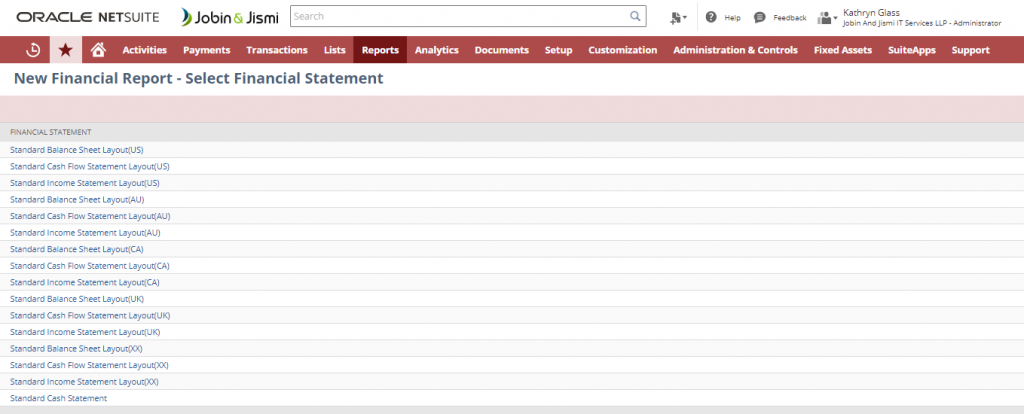 • Flexible Payment Acceptance
Flexible payment acceptance allows the business to determine one payment for all including vendor/ employee, per bill/expense, or else a user-defined grouping. These features work automatically by creating groups of payments to match up within your selected criteria.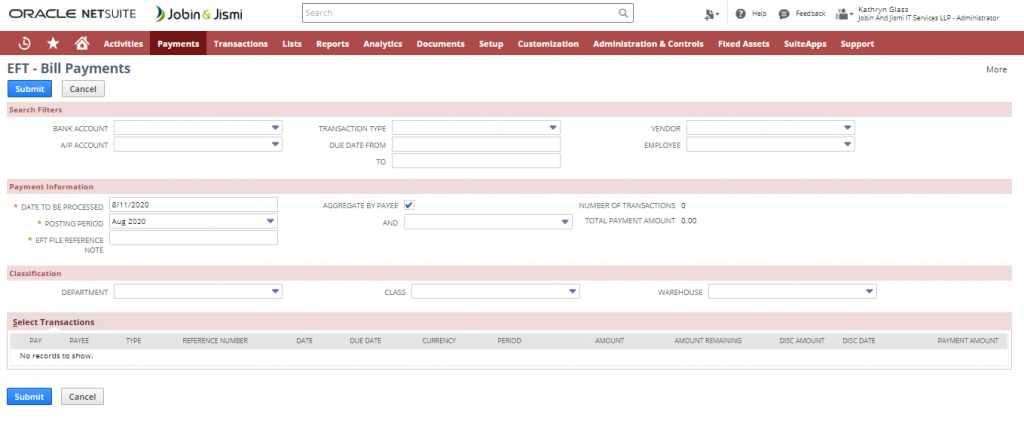 • Global Ready
The global-ready feature ensures your business system is ready to handle your international business operations irrespective of the geographical location. Global ready feature maintains a core ERP suite, consisting of host enhancements. The functionality distributed across global finances. It will also provide engagements with Governance, Risk, and Compliance (GRC), revenue recognition, Services Resource Planning (SRP), Supply Chain Management (SCM), and billing.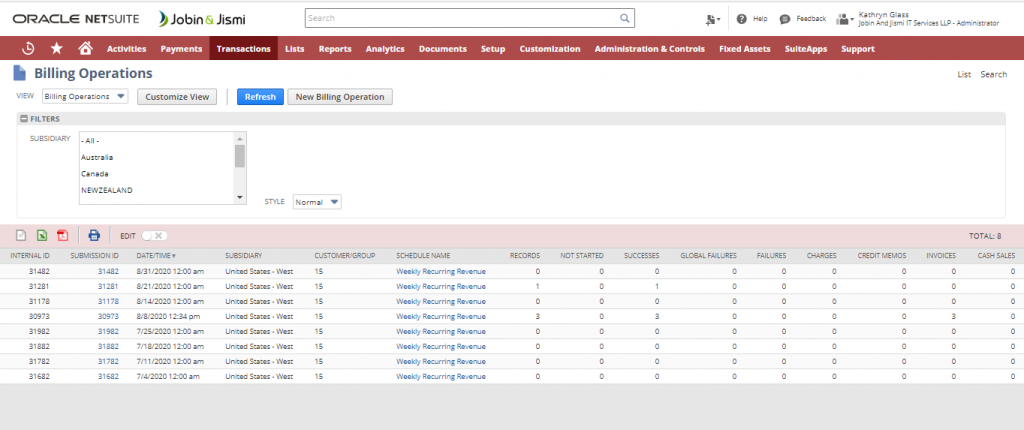 • Fraud Prevention
Netsuite is a software which offers the highest data security. The measures operate to prevent fraudulent activities with respect to certain periods, amounts, addresses, purchased items on specific criteria. There are flexible features to detect fraudulent activities. NetSuite Fraud Detection and Scoring Tool are easy to install with the NetSuite bundle.
• Flexible Payment Processing
Flexible payment processing allows one to define payment processes for the actual vendor/ employee per bill/expense. In other cases, this would be dependent on a user-defined grouping. It helps to automate categories of payments matched with the choosing criteria.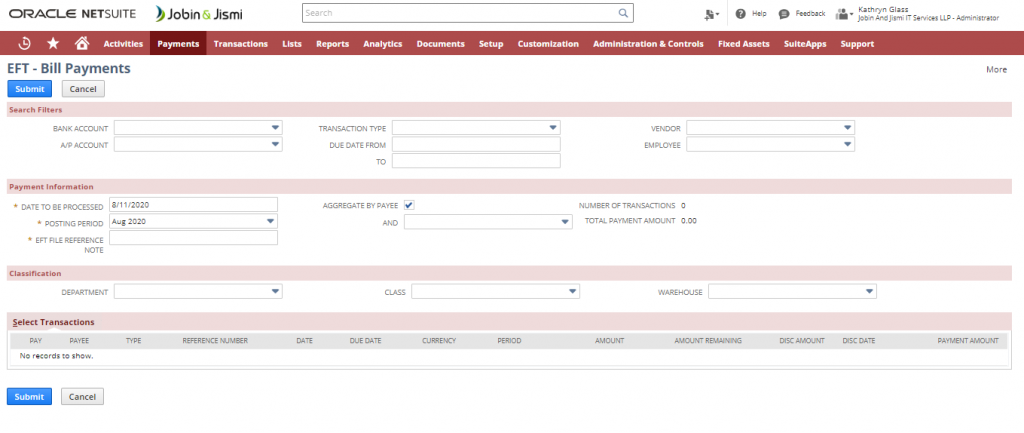 • Demand Planning Engine
NetSuite's Demand Planning engine helps in managing and controlling the processes associated with the balancing of demand and supply. It works by creating demand trends, and it may get evaluated; hence, the plan created. The supply planning process generates the purchase process, work, and transfer orders on the foundation of many settings inclined in item records.
• Gross Requirements Inquiry
Gross Requirement Inquiry functions operated by Modeling Inventory Levels. It helps for the generation of expected sales and purchase orders. It also maintains an inventory level which may have got an impact on the future.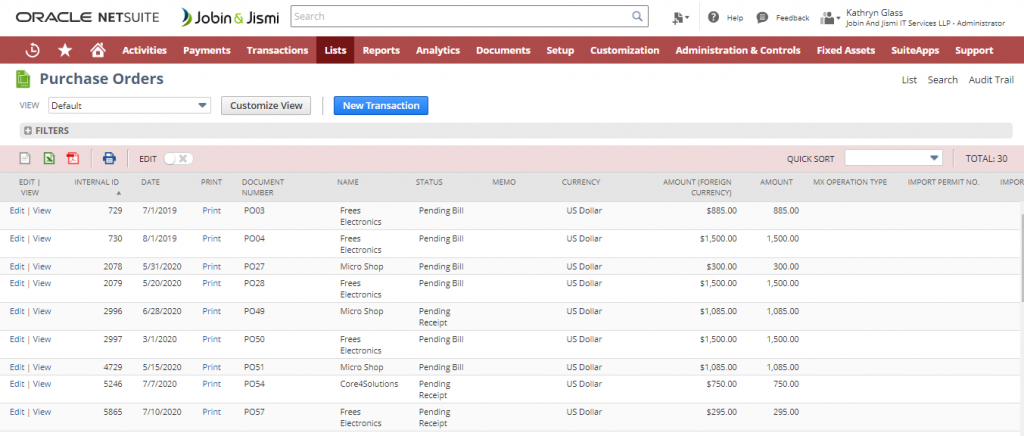 • Supply Chain Intelligence with MRP
The features drive a list of functionalities. It helps in creating Supply Chain Intelligence with MRP and leverages MRP parameters in total with an in-depth, real-time view into key supplier, inventory, and procurement indicators. It delivers capabilities to vendors, partners, and customers for Self-service.
• Cost Management
NetSuite cost Management is a powerful feature. It provides the following benefits, including improved productivity, and better tracking along with compliance. It also helps to maximize the accuracy and timeliness of expense reporting, thereby enhancing the overall experience of the processing with user attentive and straightforward enterprise.

• Order Fulfillment
NetSuite order fulfillment feature is adaptable to any warehouse types. It consists of facilities including pick, pack, and ship functionality, and integrates the same with key shipping providers. It is also essential for leveraging business across more significant locations and Warehouse Management for sophisticated, outbound fulfillment operations.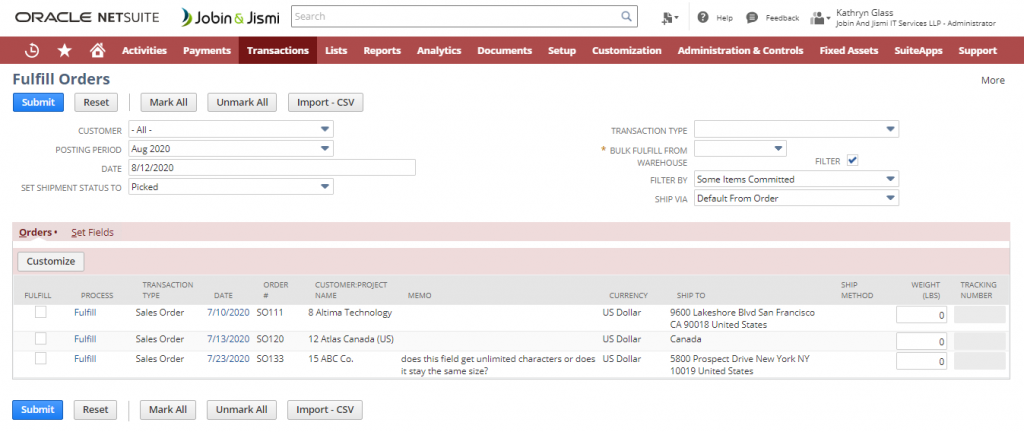 • Inventory Control
Inventory control feature allows businesses to experience improved inventory tracking. It also helps to create, and active control over business assets. You can receive other functionalities, including categorizing inventory to the volume of transactions and value, regular periodic counts, and so on. It is an effective tool for maintaining inventory accuracy.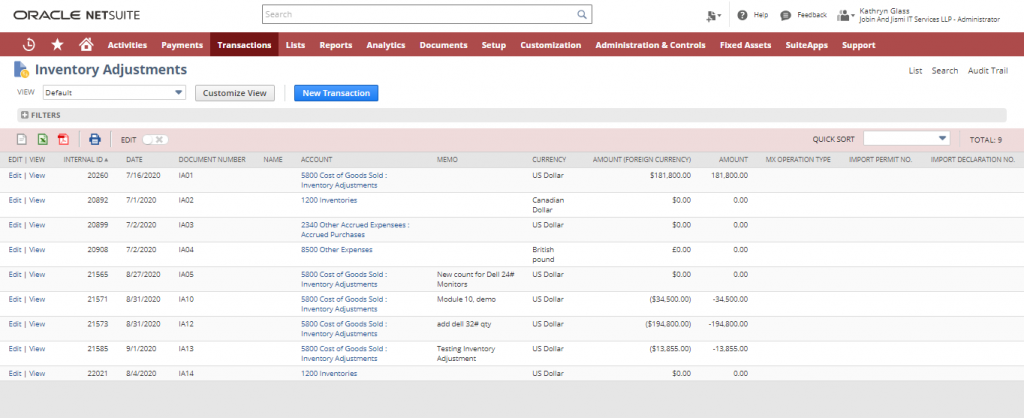 • Inventory Visibility
NetSuite inventory visibility feature is an extensive capability offered by NetSuite ERP. This feature helps to track the following actions in NetSuite which includes cycle counts, multiple locations inventories, distribution requirements planning, safety stock, demand planning, reorder points, and multiple locations inventory.
• Integrated Process Workflow
NetSuite has powerful capabilities to optimize processes inside in an integrated workflow. It has a web-based business software solution and offers aligned business processes. It is easier to maximize business agility by allowing ad hoc workflow changes, and it also can trigger events and measures the working.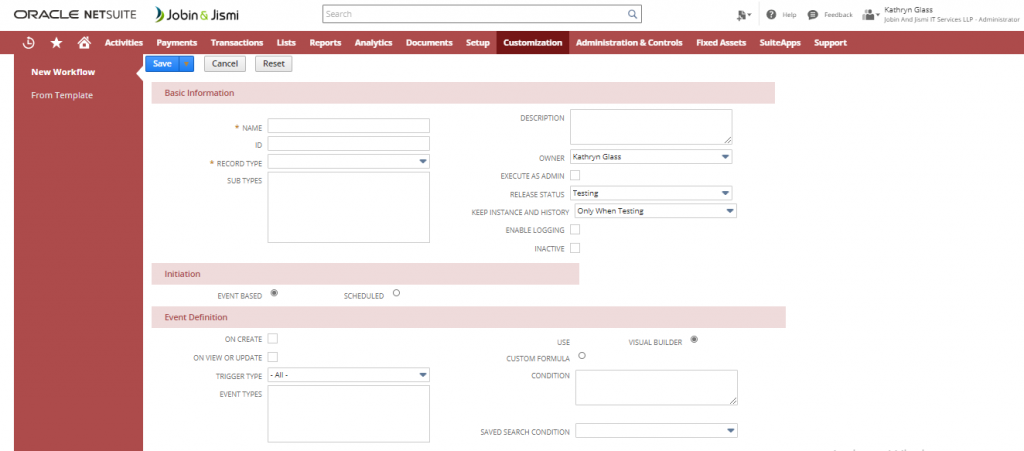 • Centralized Vendor Management
NetSuite allows the users to manage the activities over a single screen easily. It includes the actions on the accumulation of requirements, choosing vendors, engaging communications, receiving bids, and pricing updations. All these activities are controlled, monitored, maintained, and managed in a centralized vendor environment.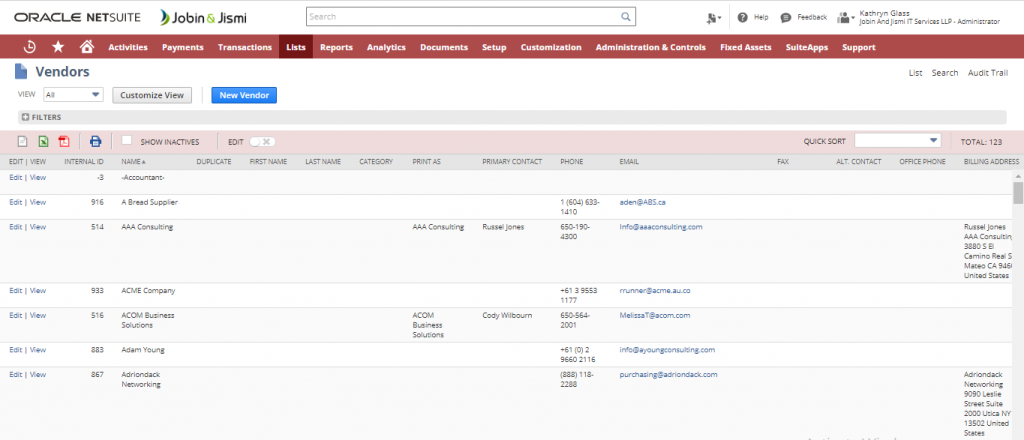 • Routing and Approval
NetSuite has advanced facilities to maintain Approval Routing functions. It is one of the best practices used for managing approvers in an organization providing adequate internal controls, authorization of purchases, and so on. Different levels of approval processes ensure accountability.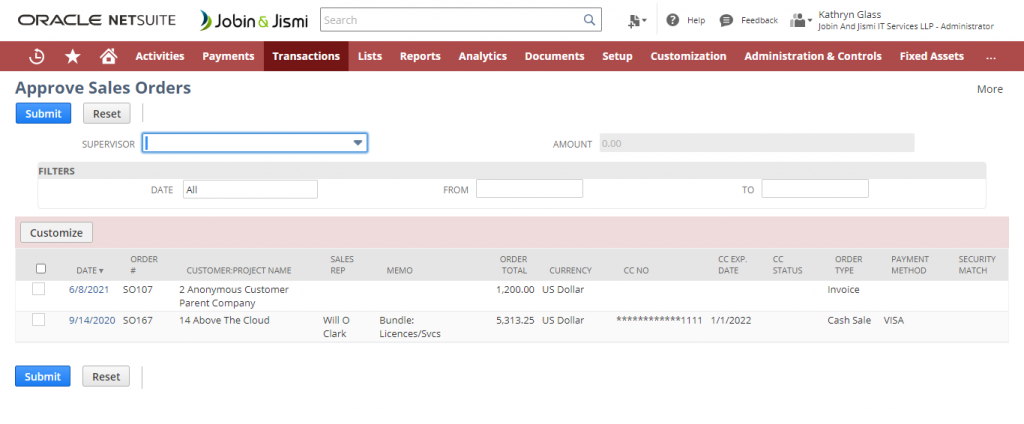 • Shop Floor Management
Shop Floor features drive real-time updates and indications via NetSuite's interactive tablet application and traditional barcoding. It helps in planning and recording of events on the details of products manufactured and its functionalities.
• Manufacturing Routing
In the manufacturing industry, the routing helps to make production BOMs and provides the paths to the manufacturing end item. It holds master data, which enhances the process requirements of a given product.
• Bill of Materials
The Bill of Material (BOM) feature of NetSuite helps the users to arrange the list of parts, items, assemblies, components, and other materials needed to build a product. It also consists of instructions for how to assemble products ordered as fragmented to create a system.
• Materials Resource Planning
MRP users can easily make balancing between demand and supply. It provides agility to explode BOM's and also helps to check inventory and safety stock levels, review request, and analyze the amount before generating planned orders.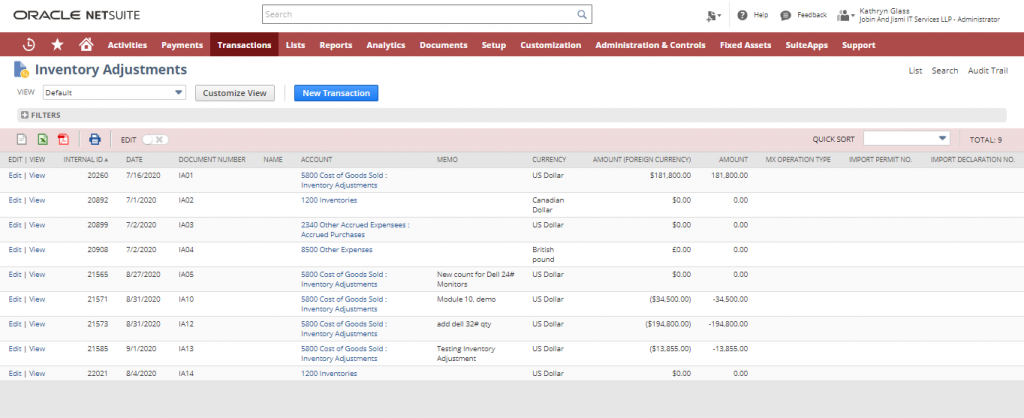 • Flexible Billing Scheduling
NetSuite offers flexibility in quickly creating different billing schedules for business requirements. It has many options and its programs and builds activity for reusable multiple orders and lines with the help of schedule's header level options.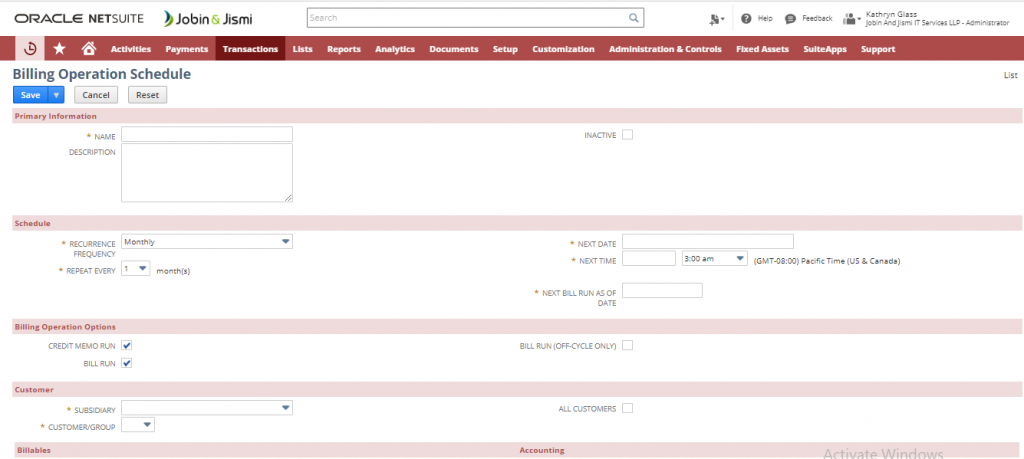 • Integrated Process Workflow
NetSuite has powerful integrated workflow management features that maximize the business agility with ad hoc workflow changes. With these features, users can create easy to use workflows and can trigger the events accordingly.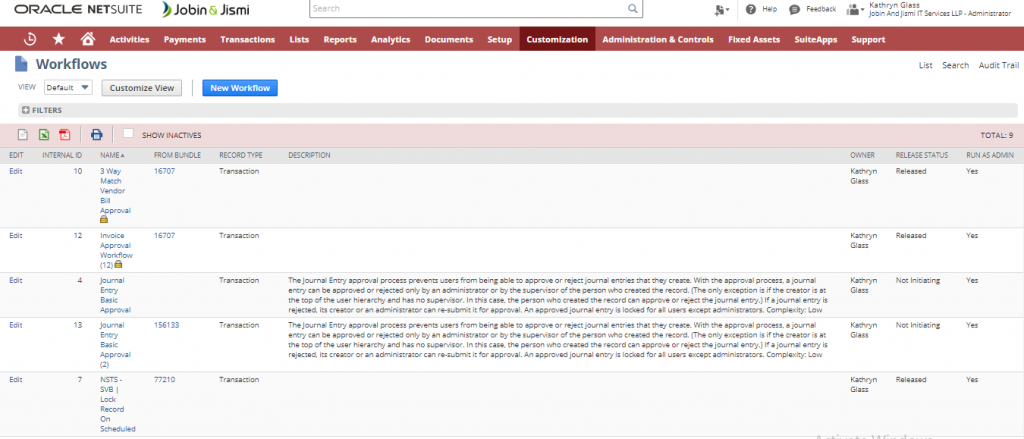 • Human Capital Management
HCM integrates HR functionality within the NetSuite suite of applications. It is an effective solution to remove repetitive and manual processes and wastage of time. It confines actions and gathers information from multiple systems, and it consolidates the common queries from employees and generates reports to decision-makers and auditors.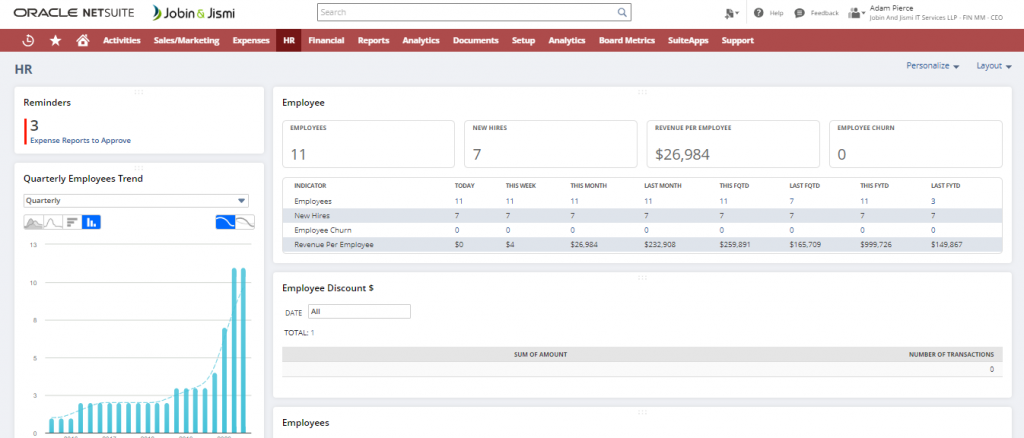 • Core HRIS
The Core HRIS feature works by benefiting SuitePeople. It helps in supporting employees to request time off, access to the employee directories and maintain organizational charts, cross monitoring of upcoming vacation schedules and recording new employee hires, or public recognition of good work and many more. It also operates by weaving people's data via the suite. It is effective for accomplishing complete control over the core HR processes.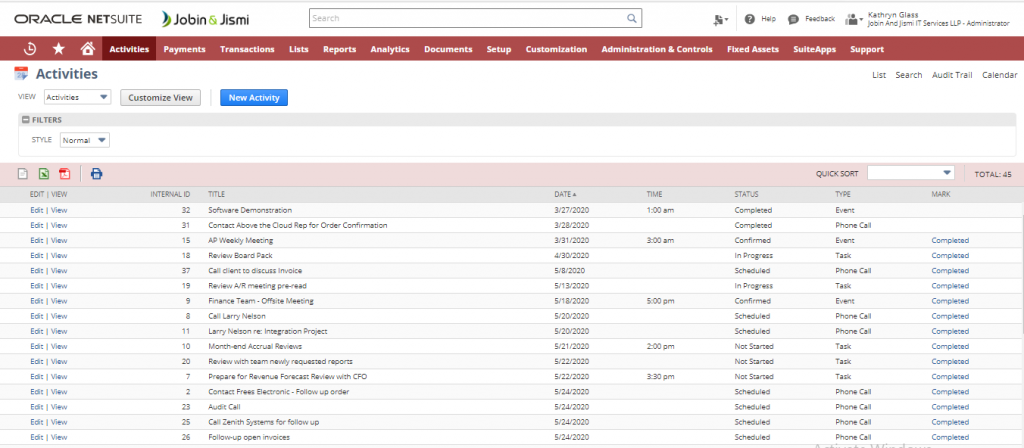 • Payroll Services
NetSuite Payroll Service can automate all the payroll activities and reduce the manual payroll tax filings with U.S. federal, state, and local jurisdictions. These payroll services facilitate the creation and delivery of year-end Form W-2 and Form 1099-MISC. It also possesses additional deeper editing capabilities.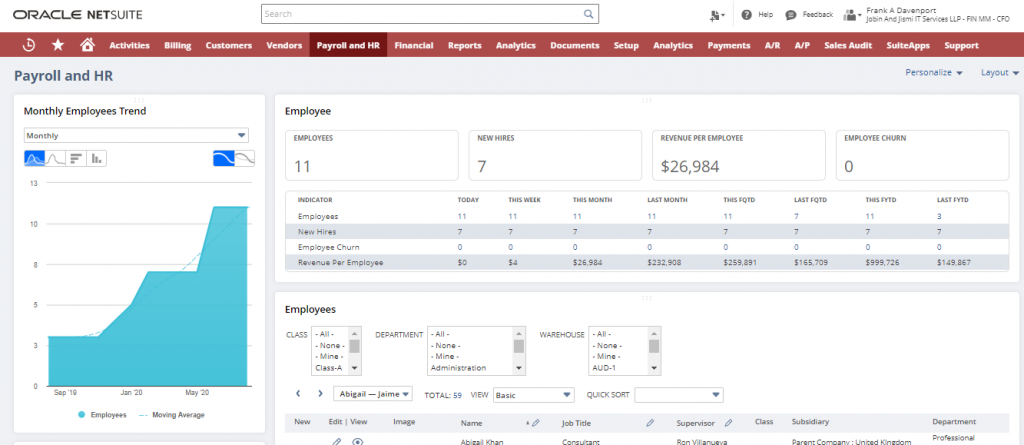 • Incentive Compensation Management
The incentive compensation management is available as an additional module to NetSuite customers. Incentive compensation management feature allows fair treatment and facilitates improved accountability in transactions. For instance, companies can manage the paying incentives and commissions quickly to their sales representatives and partners in the form of wages or paycheque as an account payable transaction.
• NetSuite TribeHR
NetSuite TribeHR offers an environment for recording all the employee files digitally. It also has an enterprise-class HRIS which provides a complete historical record. It helps in giving the following actions, which help to Motivate, manage, and retain employees to work towards achieving business goals.
What You Will Receive in Return
You can experience countless benefits with NetSuite ERP Integration. We are highlighting some of them below.
1. Process efficiency: NetSuite implementation methodology requires greater attention as it is a vital process. NetSuite is rendering high-end solutions to ensure process efficiency and visibility. NetSuite works by optimizing business operations and indeed offers business enterprises to create the best environment that provides process efficiency.
2. Optimized business processes: NetSuite, by all means, offers optimized business solutions. By aligning fragmented actions into a single software solution, it deploys highly efficient functions throughout the organization.
3. Progressive Growth: With NetSuite, ERP, businesses can achieve highly progressive growth and development. It ensures efficient rendering of the business processes combined with business prosperity.
4. Financial planning: NetSuite ERP possesses dynamic capabilities to plan and manage the financial operations involved in a business. It helps to analyze the trend and helps in making informed decisions to create a more significant difference in future business.
5. Accurate Revenue Recognition Management: NetSuite ERP has accurate revenue recognition features deeply aligned with NetSuite functionalities to streamline the business operations.
Apart from the advantages mentioned above, NetSuite ERP has unlimited capabilities to scale up the business to achieve higher business growth.
How We Can Help
We can assist you in all your NetSuite related requirements. We have 8+ years of industry experience in providing support and services to businesses across the globe.
Capabilities of Jobin & Jismi
We are offering services on following functional areas of NetSuite ERP.
NetSuite Implementation
We have the highest recognition of NetSuite implementation services. Our implementation team has ample experience in leading NetSuite implementations to success. If you have any questions to Ask a NetSuite Implementation partner, Get In touch with us. Let us help you clear your worries
NetSuite Administration
We have capabilities to render services on NetSuite Administration. We have certified experts to handle all your NetSuite administration requirements.
NetSuite Optimization
We have expertise in handling NetSuite optimization functions upon the request of our clients. Our services are highly efficient and result oriented.
NetSuite Integration
We have a highly dedicated, experienced team to handle all the integration requirements of our clients. Our resources work as a dynamic team to address all the customization and other specific needs that emerge throughout the service period.
NetSuite Customization
We are having a legacy of delivering NetSuite customization services to diverse industries. It includes complex and sophisticated customization requirements. We strive to offer accurate solutions in response to customer needs.
SuiteCommerce Advanced (SCA)
We have a dynamic team to handle all the stipulated eCommerce requirements. Our dedicated team helps to render services across the globe with the highest customer satisfaction and client retention rates.
If you would like to know more about NetSuite ERP and its advantages or else how you can transform your business with the industry, can you make use of it? Schedule a free consultation right now!!!
If you wish to know more about us and our services drop us a message to contactus@jobinandjismi.com.
We are here to assist you in your ERP journey !!!!