The manufacturing industry is diverse with many fragmented actions inside. Each section of a manufacturing organization requires special attention. It is because organizational functions are more complex. We need a powerful ERP solution to coordinate and unify these activities. NetSuite #1 cloud ERP Solution now offers manufacturing modules for industries.
NetSuite manufacturing module offers a bundle of services that strengthens business processes and provides an optimized business solution. The NetSuite CRM provides an efficient approach to powerful sales performance, order management as well as partner management activities. And another main factor is the marketing process; NetSuite can automate all marketing activities. Such as, email campaigns, social media campaigns, creation and execution of other similar marketing techniques that help the industries to reach out to a larger audience within a cost-effective way. It helps the industries to experience the omnichannel division on the order management.
Real-time visibility is another irresistible advantage. Customization and flexibility to adapt the changes according to different requirements is another important reason for the NetSuite ERP success. It is customizable and can be changed according to the emerging needs and changing business environment. NetSuite integrates the works from a single source and eventually enhances the finance, sales, and customer data.
The NetSuite for manufacturing and it's CRM provide a versatile image of the customers and their nature. It also ensures improved customer satisfaction, lower service costs, and new potential customers.
NetSuite delivers the software infrastructure to support your business including supply chain and manufacturing processes irrespective of their location of operation.
NetSuite OneWorld helps to channelize the operations across the multi-subsidiary. It helps in providing real-time visibility across three different levels including local, regional, and corporate. This process creates a standard business process and acts on compiling the business worldwide. It now offers a mobile-friendly version to increase resource productivity and to ramp with new resources quickly.
Why Adopt NetSuite ERP?
Manufacturing industries are quite complex. And it is difficult for them to accommodate an ERP platform as it needs to deal with a complex set of operations. This includes supply chains, production, marketing, distribution, and global reach. Hence, normal ERP is not enough to manage the manufacturing industries. So, what is the solution?
There comes the role of NetSuite ERP. NetSuite possesses the capabilities to accommodate all business worries of Manufacturing industries. NetSuite ERP for manufacturing industries is a separate module carrying out core capabilities to deploy the best business operations. This ERP solution is powerful enough to redefine the success of a manufacturing business journey.
Bringing the right combination of business software is going to mark the difference in operations.
With NetSuite ERP you will be able to;
• Establish your brand.
• Expand the operational platforms.
• Accelerate your business.
• Dominate across the globe.
How NetSuite Is Benefiting the Manufacturing Industries
1. It helps to reduce IT support and resource costs.
2. Fastens the financial close process.
3. Improved service support and productivity.
4. Effective control over critical compliance activities.
5. It offers flexibility, agility, and visibility.
6. It helps in focus on innovation rather than the difficulties in the maintenance of hardware and software.
How NetSuite ERP Transform Manufacturing Industry
NetSuite Manufacturing industry can deal with vast aspects of the concerns of the manufacturing industry. NetSuite ERP helps you to establish your manufacturing business with a powerful CRM Platform. The core marketing features and the agility to support the business evolution of NetSuite give you the perfect solution for your business problems. You can easily manage complete customer lifecycle and can strengthen better customer relationships. This also caters to effective sales order management and capabilities to partner management. NetSuite ERP will ensure better-performing financials, efficient Inventory management, and also with discrete manufacturing. Following outlays, the important aspects of features NetSuite deals within the core.
• Accounting and Financial Management
NetSuite ERP optimizes all financial and accounting processes into a single platform. It helps to reduce accounting and financial management costs. And offering features for customizing the financial processes based on industry-specific demands. And another utility is on the automation of financial processes including calculation of sales taxes, finance charges, discount terms, and so on.
• Sales & Opportunity Management
Accelerates their sales performance by optimizing and automating sales activities. This includes the preparation and execution of social media campaigns to collect leads and eventually convert them into customers.
• Production Management
With NetSuite, it is possible to automate several production activities. For instance, the creation of work orders.
A simplified and user-friendly multi-level work order processing along with full production routing capabilities and efficient support is possible through NetSuite integration.
• Services Management
NetSuite ERP Automates case management. This is done by assigning support tickets to unique customer email addresses. Examines and indicates customizable parameters optimizing the return authorization, product warranty, and repair process. Offering a rich library of online training aids that includes training videos, webinars, and weekly bulletins.
• Inventory and Warehouse Management
NetSuite offers unique facilities to track inventory and warehouse management to track inventory across multiple locations.
• Supply Chain Management
Ensures seamless data flow across networks by establishing Supply chain environments. The company can expect more efficient distribution and resource planning along with automatic suggestions on the generation of orders. This includes purchase, work, and transfer orders across multiple locations and regions.
• Order management
NetSuite manufacturing incorporates the most sophisticated platforms and brings automation as well as the transition of orders for the shipping/of logistics and account receivables. The processes involved with order management including Multi-step picking, packing, and shipping can be done very smoothly. It also provides real-time visibility into the order management process.
• Inbound marketing
NetSuite ERP owns the feature of Inbound marketing. An organization needs only a limited effort in pushing the brand, product, or service. They can easily take advantage of driving visitors and generate lead customers from prospects and drive sales and increased business.
Product Features of the NetSuite Manufacturing Module
NetSuite manufacturing module offers extensive features to target the point of improvement in the manufacturing industry in total. Some of the important features of the manufacturing module and its outstanding benefits are reported here.
1. Customer Relationship Management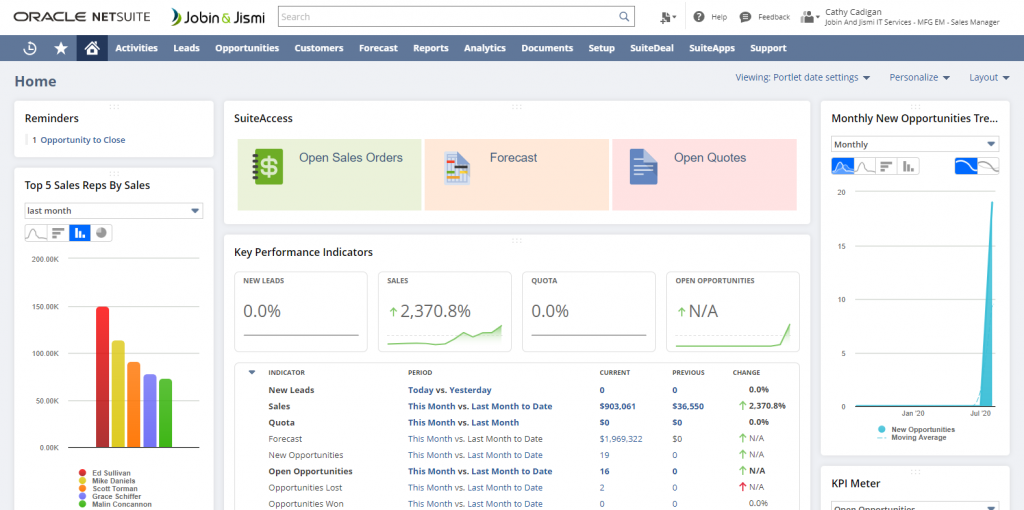 The manufacturing module yearns capabilities for delivering effective CRM solutions for enterprises. The real-time 360-degree customer view is an exclusive feature enabling an uninterrupted flow of information
Key benefits
• SFA, marketing automation, and cross-sell upsell and support.
• Lead-to-cash processes.
• 360-degree customer view.
• Improved productivity.
• Enhanced sales.
• Forecasting and decision making.
• Upsell and commission management.
• Universal market sales.
• Efficient management of sales, service, order, and partner.
2. Product Data Management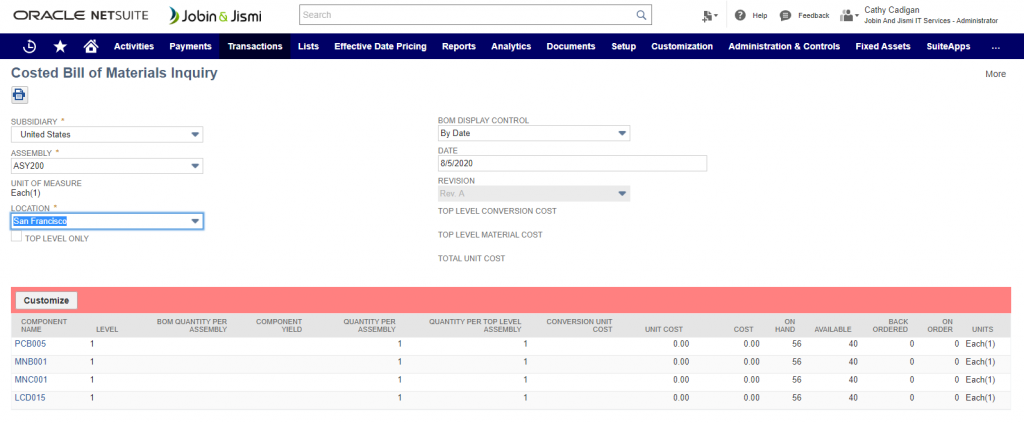 Effective management and control product data in a single place helps to simplify the designing process and reduces the time taken to market the new products. It also provides data visibility regardless of the source.
Key benefits
• Real-time inventory status view.
• Management of Vendor, CM, and 3PL Location.
• Capabilities for multi-location planning through Full Distribution Requirement Planning (DRP).
• Easy connect with supply chain partners.
3. Order Management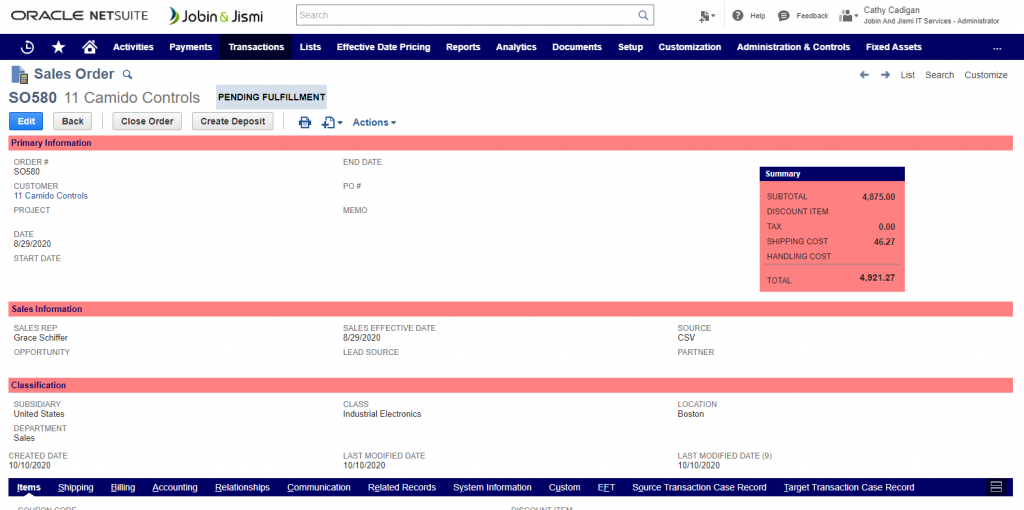 NetSuite Order Management helps to automate order promising allocation, execution, and other allied processes based on your global inventory availability and business rules. It helps to deliver the perfect order each time
Key benefits
• Centralized system and integrated order-to-cash processes.
• Swift handling of approval routing, pricing, and discounting.
• Proper control over the release-for-fulfillment process.
• Omnichannel fulfillment to hold inventory and to save sales.
• Optimize fulfillment.
• Increased inventory turns and preserving safety stock.
• Creates an environment for consulting quick deployment for the market for business change.
4. Planning and Scheduling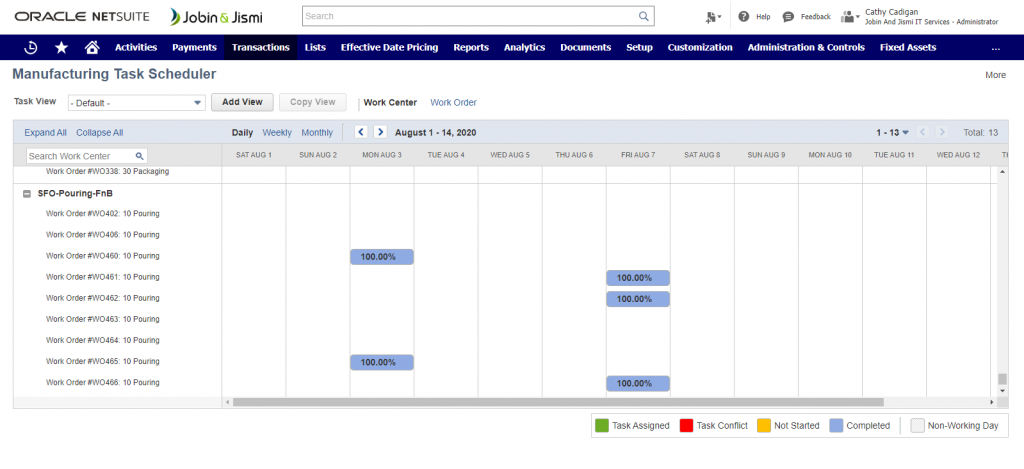 NetSuite's Production Scheduling solution helps to achieve balance with outstanding features to create and maintain a realistic schedule with minimal effort.
Key benefits
• Real-time scheduling.
• Flexible scheduling code.
• Advanced sequencing.
• User-defined constraints.
• Multiple graphical representations.
• Drag and drop options for scheduled operations to prevent a manual override.
5. Procurement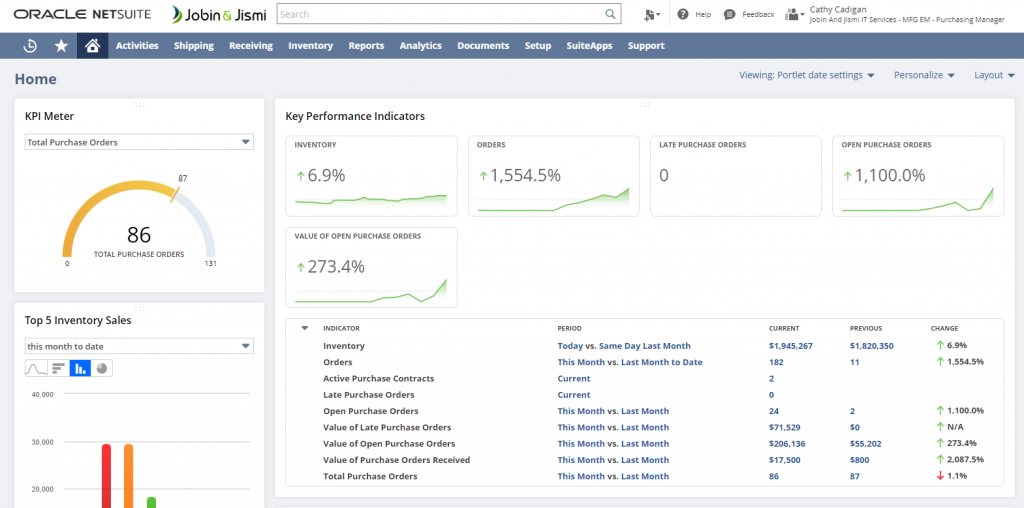 NetSuite provides effective management of vendors and purchasing processes. It ensures products are delivered to the right hands at the right time.
Key benefits
• Effective and easy management of multiple locations.
• Inventory level optimization.
• Simplification Of the ordering process.
• Multi-level approval workflows.
• Management and control of blanket POs and purchasing contracts.
• Accessibility towards datasheets.
6. Production Control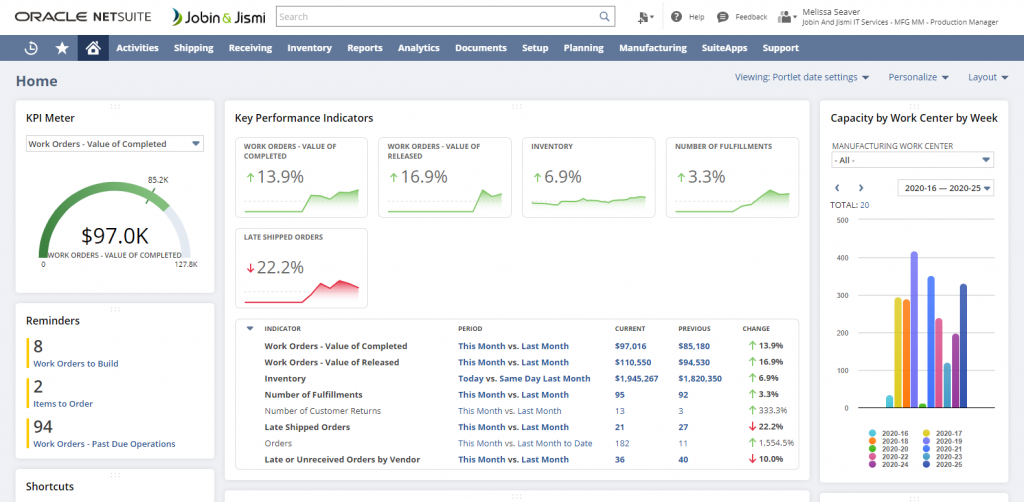 NetSuite can integrate exceptional applications and features for the work orders in the production process. With this feature companies can manage, create, release, update, and monitor the production process underlined with work orders. It will provide a proper enhancement towards control and productivity.
Key benefits
• Production control.
• Location-specific configuration.
• Automatic status updates.
• Running workflow.
• Real-time view in work orders.
• Batch updates.
7. Shop Floor Control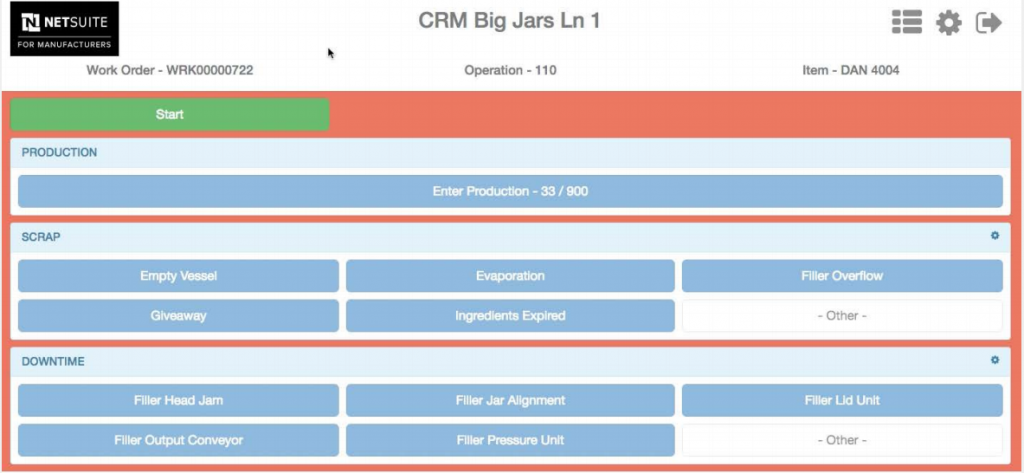 NetSuite has the best tool for tracking Mobility solutions. Shop Floor Control is also a tool for bringing efficiency in the manufacturing process.
Key benefits
• Effective functionalities.
• Improvised user experience.
• Real-time updates from manufacturing.
• User-configurable tablet applications.
• Native application designed for Advanced Manufacturing.
• Abilities to tackle issues as they arise.
8. Quality Management

NetSuite's Quality Management solution is designed to deliver the highest service efficiency with reliable quality for products with minimal overhead.
Key benefits
• Enhanced product quality.
• Effective inspection plans.
• A complete result of In-process and incoming inspection.
• Comparison between pass / fails criteria.
• Non-conformance reporting.
• Cost-effectiveness.
9. Supply chain management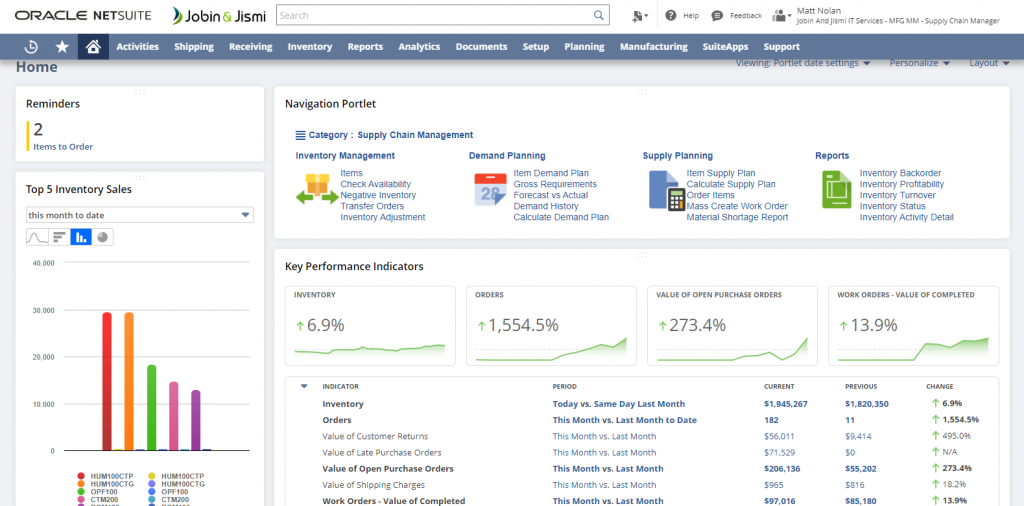 NetSuite manufacturing module possesses an extensive feature for managing and controlling the supply chain. NetSuite runs the same efficiently within different time zones and continents within a single managing platform. Businesses can analyze sales, review the performance, and forecast the results accordingly.
Key benefits
• Real-time visibility.
• Effective planning and collaborations.
• Reduction of associated costs.
• Drive sales.
• Enhanced service operations.
Key Benefits of the NetSuite Manufacturing Module
The precision manufacturing module offers the following benefits for manufacturing industries to enhance their working efficiency and productivity.
• Proving a powerful customer relationship capabilities which include automation in the areas of marketing, customer service support, and sales force.
• Onboard support to lead-to-cash processes.
• Delivers 360'- degree customer view.
• Improved productivity to business process optimization
• Management of organizational functions includes sales, order processing, and partnership management.
• Vendor and customer relationship management.
• Improved sales performance by effective management and facilities for forecasting and report generation.
NetSuite Manufacturing module has evolved as a result of several years of research and it has developed with a deep understanding of the manufacturing companies across the world. The NetSuite manufacturing module is sufficient to accommodate all the challenges. It follows the best practices for the transition of manufacturing industries to behold success.
Are you interested in running your business with NetSuite ERP for your manufacturing industry???
Jobin & Jismi render effective NetSuite Consulting services to the manufacturing industry. Our expert hands work tirelessly to bring competitive advantages for business. We help to implement NetSuite ERP for manufacturing industries. We have exceptional talent and an enthusiastic workforce delivering the best solutions for any business concerns of yours. Drop your query to contactus@jobinandjismi.com and get to know us better.